Chief Olayiwola Afolabi, the Chairman and Chief Executive Officer of Ogo Oluwakitan Group of  Companies, spoke with P.M.Entertainment about the Nigerian music industry, his relationship  with top music stars like King Sunny Ade, Dele Abiodun, the late Fatai Olowonyo, Ayinla Omowura  and others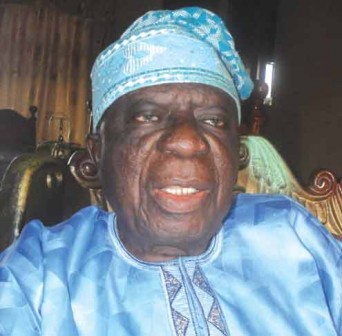 When was Ogo Oluwakitan formed?
It was a name chosen for me by God.
What were you doing before then?
I was into carpentry from where I moved to Egbado area of Ogun State, buying and selling. When  I returned to Lagos in 1959, I got an accommodation at 60, Ibidun Street, Surulere. It was a  one-room apartment. Then I had a passion for trading, my wife and I were selling lots of things  like shorts, shoes and other things. As at that time, I did not have a shop and when my search  for a shop proved abortive, I decided to relocate to Ikirun. For one week, I could not get a  shop and had to return to Lagos.
What happened then?
On my return to Lagos, I realised that my wife was able to sell goods worth £10 but still, the  struggle continued.
How did you come into music business?
There was a man selling records on Lasisi Street, Idi Oro called Baba Ibeji and another around  the area called Adejuwon. If you can go back memory lane, you will discover that there was  rivalry among those releasing records then. Ojindo, S. Aka and I discovered that each time a  record was released, people would gather in front of the shop of record sellers to listen and  buy the new releases. I then became interested in the business.
Did you start selling records immediately?
No, at first, I bought a Nigerian made amplifier for £7 since I could not afford that of £25  which was in vogue then.
Who were the major distributors then?
I used to buy from those selling in bulk.
Were you making enough sales then?
Yes, this I was doing with sale of shoes, bags, caps and other things.
Who was the first artiste on Ogo Oluwa Kitan Records?
He was Oro, now deceased.
What genre of music was he playing?
His music was like that of Ayinde Adegetos. After him, I signed on the late Fatai Olowonyo in  1970.
Who brought him?
He came by himself.
Which album shot him into limelight in your company?
It was titled E L'ewure Wole which he released to abuse the late Ayinla Omowura.
How successful was it in terms of sales?
It was an instant success and I was also selling the late Ayinla Omowura's albums in large  quantity.
So you were selling the albums of rivals?
Yes, including those by Ojindo and S. Aka.
It was alleged that marketers are always in support of rivalry among artistes so as to make  sales, how true is this?
There is nothing like that. We don't even know how they started but our own prayer then was  that they should continue for us to make more sales. Mind you, those buying the albums were  doing so because of their own enemies.
Who taught Olowonyo how to play the guitar?
I don't know, but I know that he was the first Apala singer to play the guitar.
We learnt that you were the first person to travel with an artiste abroad, is it true?
Yes, that was in 1975 and we spent about one month abroad.
Was it a playing tour?
No, just for sight seeing and exposure.
Apart from that, did you take proper care of him?
Oh yes, his first car was a Volkswagen Rio and later, a Nissan Civilian bus, Volkswagen Passat  car and Opel. By the time he was using the last car, he was no more in the limelight but was  able to complete his house at Papa Ashafa area.
When he was ill, did you support him?
Yes, we tried our best possible and after his death, I sent some cash to his family.
You sold both Ayinla Omowura and Olowonyo's albums. Which of the two artistes sold more?
Ayinla's album sold more than those of Olowonyo's.
Apart from Olowonyo, which other popular artiste was on your label?
Sikiru Ayinde Barrister spent 14 years with me, KSA was off and on but Olowonyo and Barrister  were my main artistes.
What kind of artiste is KSA?
Very talented. I could remember a trip we made to London to record an album and on getting to  the studio, he discarded all the songs and came up with another set. The album was titled Eri  Okan.
How was the sale of the album?
It was a success.
What about Dele Abiodun?
He did some albums with us, so also was Pastor Joseph Adelakun, leader of Ayewa International  Gospel Band. In fact, he released all his albums with us including Amona Tete Maa Bo, the work  that shot him into limelight and still waxing stronger to date.
We learnt that most of the old artistes signed lifetime contracts with you people then, how  true is this?
No, it was just for a minimum of five years.
Tell us about the crisis between Dele Abiodun, Empior Pick Peters and Bob Aladeniyi?
They too were able to sell like Omowura and Olowonyo. They did their best, but Dele Abiodun led  them because he was talented.
Was there piracy in the music company then?
There was and we were unable to win the war against it because there is no justice in Nigeria.  We tried then but it was impossible to win the battle.
What is your opinion about the piracy war?
Government can do it if it wants to.
Apart from music, which other things gave you money?
All the businesses gave me money.
Why is it that both distributors and musicians marry more than one wife?
Women are to be blamed because they don't allow us to rest. They can even go to the extent of  being diabolical.
What other things is Ogo Oluwakitan doing for now?
I am into auto business because I was given a distributorship right by Peugeot Automobile in  1978. I am also into sewing machine business.
When last did you see Barrister?
I saw him when he was in a hospital in Lagos. That was after the operation and he was looking  trim because all the fats in his body were gone and recuperating fast.
Do you think he can still sing?
Yes he can, but it will take some time as he needs to recuperate very well.
Load more