Survivors of Sunday's road carnage on the Lagos-Ibadan expressway in Mowe-Ibafo axis have  recounted their ordeal during the accident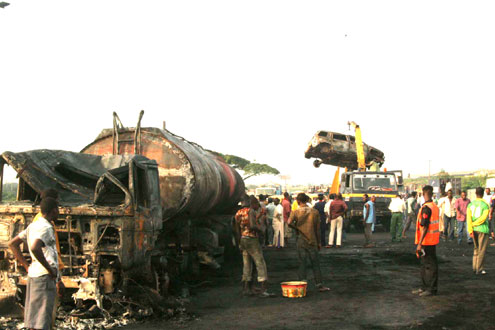 One of  them, Akin Alabi, who is the Ogun State correspondent of Global Excellence, a soft  sell magazine, said, "the accident was terrible and was more horrible than the one that  occurred some weeks ago at Berger Bus stop in Lagos State."
"The most painful thing was that all efforts to contact some officials of Ogun State  Government including the state governor proved abortive. The state fire service was  helpless. Fire men managed to work for about 15 minutes before they declared there was no  more water. There was nothing they could do. It  was disheartening, " he said.
Alabi, who was one of the occupants of the Abeokuta-bound vehicles that were coming from  Lagos, lamented that the accident was caused by the tanker drivers who parked the trucks on  the both sides of the road thereby blocking other motorists plying the route.
He said that the accident could have been averted if the state government had evicted the  tanker drivers from the place.
"If the state government had done what it is supposed to have done, probably, the accident  of yesterday could not have been averted or minimized. People have called on the Ogun State  Government to send the tanker drivers away from the highway.
"I give thanks to God for sparing my life, even though I am still feeling pains all over my  body," he said.
A couple who lost two children to the accident were weeping profusely, when our  correspondent visited  the scene of the accident.
"My children are in there. Somebody should help me, my children must not die," the helpless  woman cried as she called on passers-by to help rescue her children.
Another survivor, who identified herself as Salewa, also narrated her experience and why she  would organise a thanksgiving service in her church.
"My brother, I don't have much to say. I promised to give thanks to the Lord. I boarded the  bus from Lagos  to Ibadan. My hope and spirits were already in Ibadan for my mission only to  see myself where I am here now. I don't have much injury, only this minor burns at my back.  I pray that those who were seriously injured recover speedily," Salewa said.
P.M.NEWS gathered this morning that some victims who sustained minor injuries were taken to  private hospitals in Mowe and Ibafo in Ogun State.
Those who had serious injuries were taken to Olabisi Onabanjo University Teaching Hospital,  OOUTH, Sagamu for treatment.
A top official of OOUTH told our correspondent that some of the victims who were brought to  the hospital yesterday night had died early today. But he did not disclose the number of  those that had died.
—Biodun Onafuye
Load more