Weeks after the release of the funds demanded by the Independent National Election Commission and the subsequent signing of the amended Electoral Act into law by President Goodluck Jonathan to clear the way for the conduct of the forthcoming 2011 general elections scheduled to commence early next year, the electoral umpire has bemoaned the short period available to under it within which to plan for and conduct the general elections.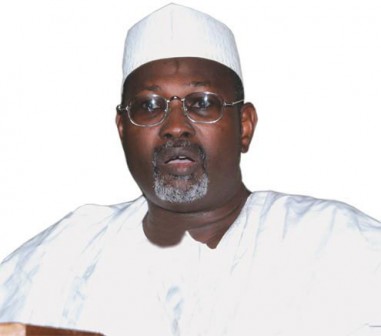 The Chairman of the electoral commission; Prof Attahiru Jega, this afternoon admitted that the greatest challenge facing the election body in its plan to conduct the 2011 elections is the short time frame on which it is working and observed that the result of the forthcoming elections will be enhanced if additional time is allowed the Commission to plan and execute the election exercise efficiently.
Speaking when he received members of Course 32, Group One, of the Nigerian Institute of Policy and Strategic Studies [NIPSS] led by Mr. Olu Obafemi in his office in Abuja, the INEC boss also stated that the voter registration which would commence in the third week of October to the first week of November would mount life threatening pressure on the Commission as it will be gunning to register about 70 million Nigerians in just 14 days.
According to the INEC Boss "One of the first things we did was to look at the old voters register and we were concerned about what we discovered. It clearly showed a lot of discrepancies which made us to decide that the current register is not good enough for next year's elections. The task of attempting to do a fresh voters register to prepare for elections early next year obviously, is a very formidable and challenging task but we have overcome some of these challenges especially the issue of funds, we have made a case for funding and we have received the funding that we requested for however the time constraints is still of concern to us, time remains our greatest challenge. Although we are doing our best to see that we overcome it. The more time we have the better job we can do of this assignment"
The INEC Boss noted that some of the problems which bedeviled the commission in the past include inadequate and inaccurate equipments but noted that they have tried to address these by ensuring that only appropriate equipments in terms of specifications were procured while Nigeria's problem of inadequate power was taken into consideration in the Commission's plans to acquire Direct Data Capture Machines (DDC).
According to the INEC boss, "We have estimated that between nine to ten minutes we will register about one person using the direct capture machines, so working for about eight hours daily we expect to register about 70 million in fourteen days, this has taken into consideration all lapses so if there about 70 million Nigerians waiting to be registered we hope to finish the registration in fourteen days with about 360,000 registration officers who we are going to recruit from the NYSC"
Load more