Lagos lawyer and human rights activist, Mr. Femi Falana has vowed to stop former military  president, Gen. Ibrahim Babangida (retd.) from contesting the 2011 presidential election.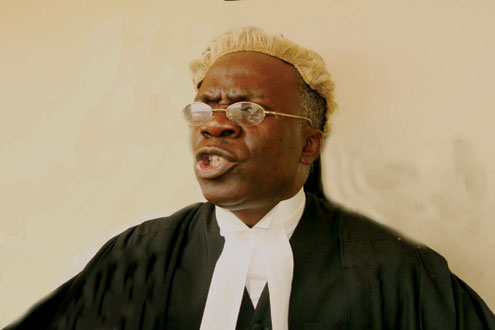 Falana who made this vow at the one year remembrance of the late Chief Gani Fawehinmi, held  at Ojota, Lagos State, called on Nigerians to stand against him.
"It is sad to hear that somebody like Babangida is coming to rule us again after he has  brought Nigeria to collapse. Somebody like Babangida, who institutionalized corruption and  has done enough harm to this country, still wants to rule us, I can assure you that we will  stop him. Nigerians will not allow him,'' he stated.
On the recent endorsement of President Goodluck Jonathan by political parties, the human  rights activist said: "I do hope that President Goodluck is sufficiently intelligent to know  that the endorsement will not earn him votes, only his performance can earn him votes and I  have not seen any performance that will earn him votes that will make Nigerians vote for  him."
Commenting on the zoning controversy which nearly tore the ruling Peoples Democratic Party  (PDP) into shreds, Chief Falana blamed media for celebrating the issue, saying it is very  dangerous for the progress of democracy in Nigeria.
"Instead of promoting the zoning formular, the media should ask the politicians their  programmes for the Nigerian masses.
"Our media are not asking the politicians questions about poverty, bad roads and good  medical services, but only promote zoning. Babangida institutionalized corruption in  Nigeria. I expect the media to ask him how he is going to arrest it, but they are not doing  that. The people shouting zoning are using it and religion to deceive Nigerians," he stated.
He expressed support for the January date set for general elections by INEC, saying: "If  Nigerians are determined, we can have successful elections in January. That is why we are  appealing to our people to support the new leadership of INEC in ensuring that we all  register and we make it one man one vote."
He commended the decision taken by INEC last week not to allow tenure extension of some  governors and promised to stand by the organisation "to ensure that the riggers of election,  who ordinarily should have been punished by the law, do not profit from illegality."
Falana commended the Lagos State governor for the honour bestowed on the late Chief Gani  Fawehinmi, adding that the late activist deserved all the honours that this country can  bestow on him for his immense contributions to the development of this country and in  defence of human rights and promotion of rule of law.
"This is a challenge to all men and women of ideas and vision in Nigeria that someday,  whether they are alive or dead, they are going to be honoured by the people at the  appropriate time. And for those that have engaged in the primitive accumulation of wealth,  this is a challenge to them too. If you made money and you don't invest in the people, you  are going to be abandoned. Gani is gone but we are celebrating him, his integrity and not  his wealth," he said.
Load more