Four men at Ilasamaja area of Lagos State, South West Nigeria, have allegedly raped an  11-year old girl and infected her with the dreaded HIV disease.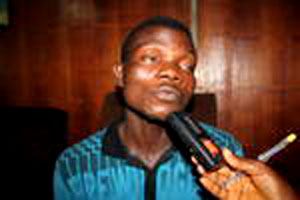 The girl, name withheld because she is a minor, lives at Richard Abimbola Street, Ilasamaja  with her father, Mr. Taofeek Daudu, and her stepmother Kafayat Daudu and had just finished  her primary school education.
One of the suspects is Mr. Jimoh Ojo, an okada rider, who lives in the same house with the  victim. The victim's father is the landlord of the house while Ojo is his tenant.
Ojo has been arrested by the Lagos State Taskforce and is currently being detained. During  his interrogation, he named three other men who also took part in raping the girl on  different occasions.
The doctor attached to the Social Welfare Department, Lagos State Ministry of Youth and  Social Development has  tested the girl HIV positive.  Ojo was also tested positive to the  dreaded disease and is feared that he might have infected his wife with the deadly virus.
P.M.NEWS gathered that the four men had been having sex with the little for the past three  years, with the last romp carried out by Ojo taking place on 28 June, 2010.
The other accomplice, whose names were given as Sunday, Ojo's wife's brother; Ade, a cousin  to the raped girl and a man simply called 'Yellow' because he is light in complexion, are  now at large.
The mother of Ade has been arrested and detained pending when her son, who is said to be in  Ondo State would show up at the taskforce office and would be made to undergo HIV test to  see if he too was infected.
The sex romp was exposed when the victim left her father's house to spend the holiday with  her mother, Mrs. Latifat Daudu, who had parted way with her husband.
The little girl suddenly became seriously ill and on interrogation by her mother, she  revealed that the four men had been having sex with her. This led her mother to take her  back to her former husband's house where she revealed the whole secret.
At the Office of the Youth and Social Development where the girl, her father and the  accomplice were taken to yesterday, the little girl allegedly confessed that Ojo had sex  with her five times, while the other three men also had carnal knowledge of her.
According to her, it was Ojo who deflowered her three years ago and that the affair had  continued since then, saying that he last slept with her in June.
On interrogation, Ojo, a father of a 10-year old girl, confessed that he slept with the  victim on two occasions, but the girl cut in and insisted that he slept with her five times.
Ojo attributed his promiscuous act to the devil, saying "it is the work of the devil".
According to him, the little girl used to knock at his door at night after he had returned  from his okada business to tell him she was hungry, saying that in the process, he sometimes  had sex with her and gave her N100 as compensation.
He added that he had slept with her in the bathroom on one occasion, saying that she  normally complained that her family did not always take care of her.
Father of the victim, Taofeek told P.M. NEWS that he was not aware that Ojo used to sleep  with his daughter  in his own house, saying that immediately he discovered that, he gave the  accomplice two weeks quit notice.
The victim's step mother debunked claims that she did not take care of her, which was why  she went to Ojo's apartment to beg for food.
—Kazeem Ugbodaga
Load more