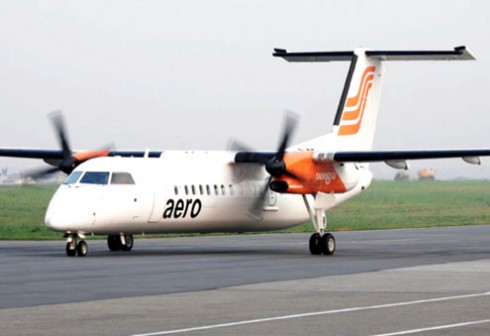 Aero Contractors airline has been excoriated by the Nigerian Airspace Management Agency  (NAMA) for surcharging passengers and labeling the surcharge "NAMA TAX".
The airspace agency said that Aero's action is "a cheap blackmail" that will not work.
The airline yesterday introduced an additional N100 charge for passengers following the  implementation of pay-as-you-go mode of payment introduced by NAMA on 1 September 2010.
The scheme compels airlines to pay terminal navigational charges before their planes can  take off.
NAMA yesterday said that the "NAMA TAX" introduced by Aero Contractors is "a grand design by  the airline to blackmail the agency over the newly introduced pay as you go mode of payment  already embraced by the carriers."
The agency's Head of Public Affairs, Mr. Supo Atobatele, said: "We want to clearly state  that NAMA has never introduced any tax, which Aero Contractors Airlines had labeled 'NAMA  TAX'. This is a cheap blackmail and would like to categorically declare that the agency is  not an inland revenue.
"NAMA is merely enforcing what is due to her as an air navigation service provider in the  aviation industry, by asking the airlines to pay terminal navigational charges, and this  charge is legally backed by Act No 48 of 1999 that established the agency and ICAO, the  world regulatory body for the aviation industry."
Aero Contractor's Head of Commercial, Mr. Robert Prophet said at the weekend: "We are  greatly saddened by the situation and the approach of NAMA. But Aero is not in a position to  take up another incremental government charge. We empathise with Nigerian passengers.''
SY&T Communications Limited, Aero Contractors' media relations consultants did not return  our call on the development as at press time today.

—Simon Ateba
Load more