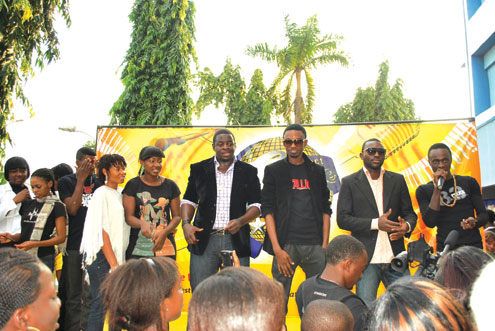 In a bid to win fans over and get their votes, ten contestants in the MTN Project Fame entertained a large crowd at the E-Center in Yaba, Lagos, South West Nigeria,  recently.
Two of the contestants, Joecelia and Rhoda, however, were not lucky with voters as they were  evicted on Saturday.
After spending weeks in the MTN Project Fame academy, the original 18 contestants have been  scaled down to eight contenders.
The remaining contenders include Kesse, Ochuko, Tolu, Eyo, Yetunde, Chidinma, Christian and  Adebola.
At the E-Centre, they all sang, danced and gyrated with each contestant imploring fans to  vote and make their favourite singer the winner of the competition.
The E-Centre's forecourt was filled with spectators who wanted to catch a glimpse of the  singing sensations of Project Fame as they have been watching them on television for weeks  and the centre of entertainment became agog with excitement.
The crowd continued to cheer on the contestants until they left the premises back to their  academy but only after reminding the crowd to vote for them as they continue to watch  Project Fame.
—Simon Ateba
Load more