State Security Service, SSS, operatives this morning shut down the Ogun State House of  Assembly following yesterday's kangaroo impeachment by minority members of the House.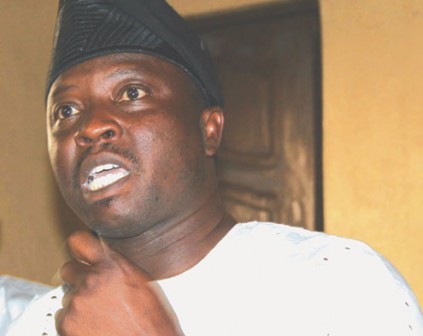 Confirming the closure to P.M.NEWS, the state director of SSS revealed that the order came  from Abuja that the Assembly premises should be shut to avoid further crisis.
There was pandemonium at the Oke-Mosan premises of the Assembly as some workers were seen  running helter-skelter while others were not allowed into the premises by fully armed  policemen who had been drafted to the premises.
P.M.NEWS reliably gathered that the G-9 members who reportedly rose from an all-night  meeting with Governor Gbenga Daniel this morning had planned to sit this morning to  'confirm' their legality, but were prevented from entering the premises.
According to an inside source, "the G-9 members led by Soyemi Coker were with the governor  for a nocturnal meeting and had planned to hold a sitting in the House today, but were  prevented by the security operatives."
It was discovered that all the security personnel in the House of Assembly were yesterday,  changed by the G-9 to enhance their protection and successful continuation of their meeting  this morning, but the closure derailed their plans.
A member of the G-15 who pleaded anonymity told P.M.NEWS on phone that the Hosue of Assembly  is still intact, adding that the Speaker, Tunji Egbetokun is still in charge.
"We were expected to seat today under the legal leadership of Hon. Egbetokun, but the  director of SSS informed us that there was a directive from Abuja to close down the House.
"We are seriously restrategising on the next line of action. We are not going to court  because the illegality is very glaring. People of Ogun State should remain calm and go about  their business without fear," the member stated.
Meanwhile, youths identified as Mafia boys yesterday stormed the Akute, Ogun State residence  of Hon. Egbetokun, vandalising the whole building with stones and other weapons. Egbetokun  and his family were not, however, at home when they stormed the place.
As a result of the crisis, Governor Gbenga Daniel was reported to have been invited by the  presidency over the alleged involvement of his police aide in breaking into the House of  Assembly.
The policeman, Ali Baba King with force number 360558 who serves in the governor's office  allegedly led the G-9 members to break into the House of Assembly for the kangaroo  impeachment.

—Jide Osokoya & ABiodun Onafuye/Abeokuta
Load more