A trader, Mrs. Modupe Ajoke Fagbolu, has won a brand new Cherry QQ car with just N200 ticket  at the 2010 St. Eve Concept Health-Check Day held at Fantasyland, Kingsway Road, Ikoyi,  Lagos, Nigeria.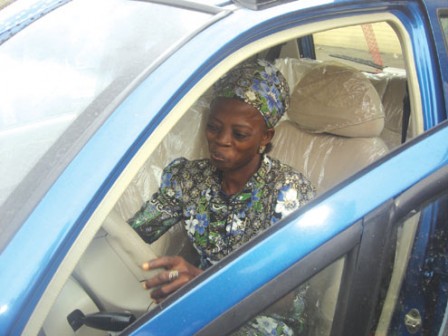 The woman shed tears of joy when she was receiving the car keys and documents from the  chairman of St. Eve Concept, Dr. M.K. George Onyung at the corporate headquarters of the  company located in Ikoyi, Lagos.
Speaking with P.M.NEWS, the indigene of Imesi-Ile, Osun State, who lives in Bariga, thanked  God and the organisers, saying  "I can't describe how I feel because I never believed that I  could win anything not to talk of a brand new car. I am very happy."
According to her, "On Thursday, 2 September, 2010, I received a text message that I had won  a car and I should come to 15, Udi Street, Osborne Estate, Ikoyi the following day for the  presentation. I didn't believe it because I thought it was fake until my son convinced me  that we should go and confirm. Today, it is real and it has been confirmed."
Narrating how she got involved in the Health-Check Day 2010, Mrs. Fagbolu said: "I was  returning from my father's hospital in Jibowu when I saw St. Eve officials at Yaba, calling  for medical check-up. I bought N200 ticket, after which I was given a check-up by the  doctor.
"I didn't buy the ticket because of promo until Friday when I received a text message that I  had won a car," she added."
Speaking at the occassion, Dr. M.K George Onyung said: "We want to prove to the world that  it is not all promos that are fake," stressing that, "St. Eve is an authentic company that  believes in credibility and integrity. We proved it."

—Dedeigbo Ayodeji
Load more