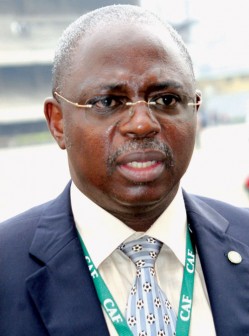 The former President of Nigeria Football Federation, NFF, Alhaji Sani Lulu, his deputy,  Amanze Uchegbulam, board member, Chief Taiwo Ogunjobi and ex-scribe, Dr Bolaji Ojo-Oba may  go to jail if they fail to meet the tough bail conditions given to them by the Federal High  Court in Abuja yesterday.
The Economic and Financial Crimes Commission, EFFC, dragged the former chiefs of the NFF to  court over the alleged misappropriation of N1.5billion released by the Federal Government  for the 2010 FIFA World Cup held in South Africa.
Lulu, Ogunjobi, Uchegbulam and Ojo-Oba were granted bail on the condition that each accused  person must provide N100million bond with two sureties. According to Justice David Okorowa,  one of the sureties must be a federal civil servant of no less than Grade Level 15 with a  three-year tax clearance.
Some football observers, however, admitted that the accused persons may find it very  difficult to meet the condition by today, an indication that they may spend the Sallah  holiday in jail.
Load more