After several months of preparation, Nigeria's Samuel Peter early today in Frankfurt, Germany kissed the canvas and lost his second consecutive bouts to Wladimir Klitschko who retained his IBF and WBO world heavyweight titles.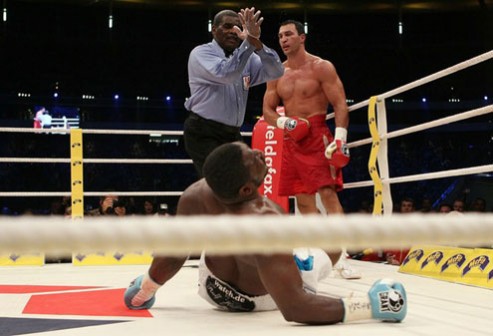 Before the fight, Peter had boasted and assured sports loving Nigerians that he would avenge his 2005 loss to Wladimir, but the boxer went down to the heavy punches of his opponent in the 10th round.
Peter, known as the 'Nigerian Nightmare' struggled to make an impact in the early rounds and was well behind on the scorecards when referee Robert Byrd finally stepped in to end what observers described as real punishment.
Peter had floored Kitschko three times the first time the two fighters met five years ago and the champion was understandably cautious in the opening round of today's bout.
The 34-year-old Ukrainian secured the 55th victory of his career and 49th knock out in front of a partisan crowd of around 40,000 in the German city.
However, he did let his punches go towards the end of the round and, in a sign of things to come, Peter had no answer to the shots.
In the second, Klitschko began to fully assert his dominance, with the Nigerian being shaken slightly at one point and the challenger was clearly on the back foot by the third.
By the end of the sixth round, Peter was labouring although a right hook reminded Klitschko that he was still in with a puncher's chance despite being heavily outpointed.
Klitschko then moved up a gear in the seventh, as he began to gain the confidence to look for the knockout he had promised before the bout.
Peter was given a breather in order to re-tape his gloves early in the round, but Klitschko did not let up when the action recommenced and landed a string of telling blows.
The challenger was already resorting to holding in the eighth as his face began to show signs of the punishment Klitschko was handing out.
At the start of the 10th, Peter's concerned corner gave him one more round to show some competitiveness, but in the end they would not have to make the decision to pull him out.
Klitschko sensed the end was near and went fully on the offensive, with Peter stumbling around the ring before the referee finally stepped in to the delight of the crowd.
Peter, who spoke after the bout to international journalists, said: "Well, I have lost three crucial bouts to the Klitschko brothers. The first was to Wladimir in 2005, then I lost to Vitali and now this one to Wladimir. It's not the end of my life and I will bounce back someday".
"Peter took a lot of punishment and fought until the end," Klitschko said. "But from round two, it was clear that his game plan wasn't working and I used the chance to finish him up."
Load more