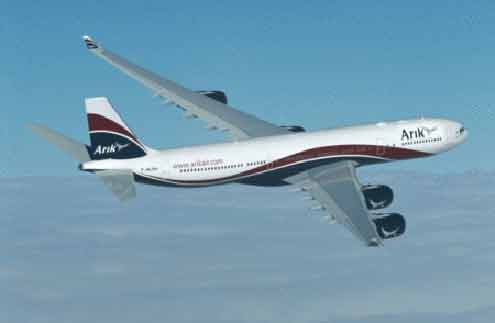 Barely a week after it was grounded by the National Airspace Management Agency (NAMA) for  refusing to pay terminal navigational charges, Arik Air is now at loggerhead with the  Nigerian Civil Aviation Authority (NCAA) over series of dud cheques the airlines allegedly  issued last month.
Documents obtained by our correspondent show that Arik Air paid over N21 million through  cheques to NCAA in the month of August 2010 but all of them were dishonoured.
The cheques with numbers 00001143, 00001148, 00001135, 00001145 and 00001144 were to be  cashed by NCAA at Intercontinental Bank.
The action has created some frictions between the airline and the agency with NCAA sending a  warning letter to Arik Air.
NCAA has urged the airline to immediately replace the dud cheques with certified bank  drafts.
"Also in view of this development, we wish to request that henceforth, all subsequent  payments to us should be made via certified bank drafts," the agency said in a letter  obtained by P.M.NEWS.
But, Arik Air's media officer, Mr. Banji Ola, yesterday told our correspondent on telephone  that Arik Air did not issue dud cheques to NCAA.
He said: "We did not and have never issued dude cheques to NCAA."
Several media reports have suggested that Arik Air is heavily indebted and might soon go  under, but the airline has repeatedly denied that it is broke.
Reports have suggested that Arik Air owes several billions of naira to banks and aviation  agencies.
The airline has excoriated NAMA over the 'pay as you go' mode of payment it introduced on 1  September 2010.
The mode of payment compels heavily indebted airlines to pay terminal navigational charges  before their planes can be cleared to fly.
Before the action, Nigerian carriers had accumulated millions of debts over the years which  they were unable to clear.
Although Air Nigeria, Dana Air, Aero Contractors, Chanchangi, IRS, Bristow and Associated  Airlines, some of Arik's competitors and members of the Airlines Operators of Nigeria (AON)  made payments to NAMA and were allowed to fly undisturbed, Arik Air refused to pay and was  unable to fly its 120 flights that day.
The airline was only allowed to fly after it paid N50 million to NAMA.
—Simon Ateba
Load more