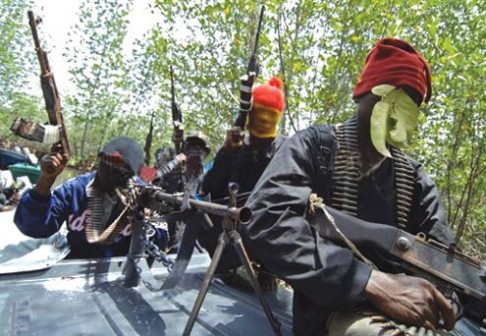 Militants in the Niger Delta have denied claim by the Chairman, Daar Communications Plc,  owners of Raypower and AIT, Dr. Raymond Dokpesi, that they planned to kidnap his son.
The Joint Revolutionary Council, the umbrella body of militant groups in the Niger Delta,   lambasted Dokpesi for what they called his false alarm over threats by unknown persons to  kidnap his son.
According to JRC, "We wish to condemn in all entirety, the false alarm raised by Raymond  Dokpesi concerning threats to kidnap his son.
"For the benefit of the doubt, we wish to categorically declare that the Dokpesis have  little or no hostage value.
"It would be entirely worthless to for anyone to abduct a child or children with  questionable paternity, vain pedigree and dumb ancestry.
"Dokpesi's ranting represents the cry of a drowning man struggling for some breath of fresh  air in murky waters," the group stated.
In an on-line statement, JRC spokesperson, Cynthia Whyte said: "Let us remind all men of  goodwill that Raymond Dokpesi's association with the South-South People's Assembly in 2007  during the run-off of the 2007 Presidential ambition of Sir Peter Odili was driven by the  heavy cash gifts that Dr. Peter Odili made to him and his DAAR Communications group to  enable them set-up shop in Port Harcourt and stay afloat.
"Dokpesi has never been involved in the agitation for a Niger Delta and has lived a life of  subservience to corrupt Northern oligarchies. His loyalty is of a pecuniary nature and will  always fall for the highest bidder."
The group added: "Our declaration of persona non grata status on Raymond Dokpesi was in  itself, a warning to Chief Edwin Clark and the others who conscript soldiers and  foot-soldiers for the Niger Delta and South-South cause without first conducting background  checks on them.
"Raymond Dokpesi has and will never be able to believe in the South-South or Niger Delta  cause. He did not believe in it when he was in the South South People's Assembly. Rather he  believed in the hundreds of millions of naira he was given by Dr Peter Odili and the lot  more that was promised. Dr. Peter Odili is still alive and should be made to speak on this  matter."
JRC had earlier threatened to declare  Dr. Dokpesi persona non grata in the Niger Delta for  agreeing to be the head of campaign team for General Ibrahim Badamasi Babangida (retd) in  his quest to contest the 2011 Presidential election.
—Okafor Ofiebor/Port Harcourt
Load more