Arik Air has exonerated itself from any blame and accused the Nigerian Civil Aviation  Authority (NCAA) of being responsible for the N21 million dud cheques scandal currently  tearing apart the airline and the government agency.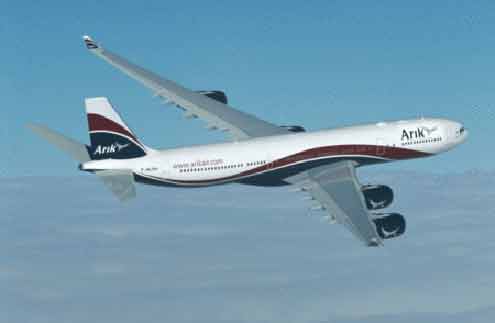 The airline said in a statement signed by its media officer, Mr. Adebanji Ola, that NCAA did  not follow normal banking procedure and could not cash the money.
"The first time NCAA presented the cheques, the bank could not confirm them with Arik Air as  normal banking procedure demanded, thus the agency was asked to represent the cheques.  This  NCAA did not do.
"Arik Air thought the NCAA had represented the cheques as they were not returned to the  airline and are still with the agency.
"Arik Air has issued a bank draft, drawn from the same bank (Intercontinental) and for the  same amount, to NCAA. This is a proof that the airline is a responsible company and always  ready to pay its bill as at when due," Adebanji said.
Meanwhile, Arik Air has said that it is not broke as suggested by several media reports that  it is owing billions of naira to banks and aviation agencies.
"The airline wants to state categorically that its account at Intercontinental Bank is well  funded and there is no ground for the five cheques totaling N21, 759, 201.00 to have been  dishonoured.
"Intercontinental Bank is one of the several banks that serve as Arik Air's revenue  collecting agent through which daily ticket sales are deposited, thus at no time Arik Air  account with the bank  will not be well funded," Adebanji said.
—Simon Ateba
Load more