President Goodluck Ebele Jonathan of Nigeria began his campaign for the 2011 Presidential  election with Short Message Service, SMS, campaign today by sending messages to millions of  Nigerians on phone.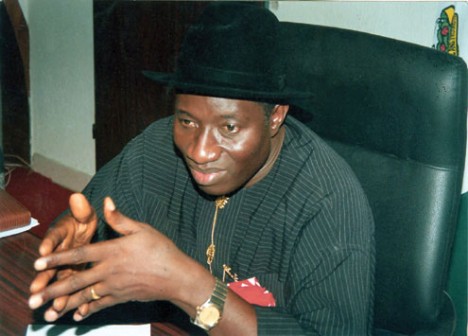 The terse message reads: "From Jonathan: We are on the road to rebuild our nation. Stand  with me. Stand for transformation."
Jonathan became Nigeria's leader after the demise of his former boss, Umaru Yar'Adua, on 5  May this year. He was sworn in the following day.
Expectations have been high that Jonathan will declare his intention to contest the  presidential election early next year, though he is yet to made a public declaration.
The Vice President, Namadi Sambo, has said Jonathan will declare his presidential ambition  on 18 September.
Sambo made this known on Monday in Uyo, the Akwa Ibom State capital, when he addressed the  South-South Solidarity Rally for Jonathan/Sambo joint ticket  for the  2011 presidential  race.
He assured the people of better days ahead for the Niger Delta.
He said Jonathan would transform the Niger Delta completely when elected.
"I am happy to inform you that Jonathan has gone far in transforming the Niger Delta.  Contract has already been awarded for the East-West road and documentation has been  completed for the coastal roads.
"We have already gone far on the East-West railway and efforts have been made to ensure the  creation of jobs," Sambo said.
He thanked the people of the South-South for endorsing the Jonathan/Sambo joint ticket for  the 2011 presidential election and promised to relay the message to the president.
Sambo had earlier inaugurated the new fire-fighting equipment procured by the Akwa Ibom  Governor, Mr. Godswill Akpabio.
He lauded Akpabio for " the speedy transformation of the state".
Load more