President Goodluck Jonathan this morning stole the limelight from Nigeria's former military  president, Gen. Ibrahim Badamasi Babangida, as he fast-forwarded his plan to declare his  ineterest in running for the presidency, using the new social network medium, Facebook. On  his Facebook page, Nigeria's president formally announced that he will be contesting for the  election, about the same time that Babangida was staging a big rally of a medley of  political forces, some spent, some active at the Eagles Square in Abuja, to also make a  formal declaration of intent.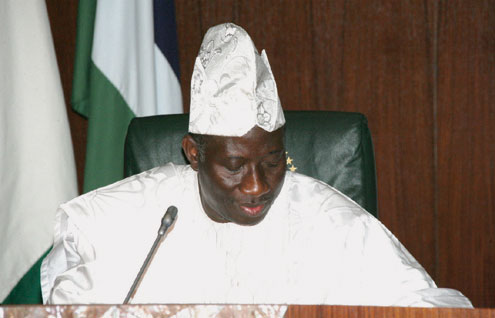 In a statement posted today on facebook, Jonathan said that after he had consulted widely in  the six geopolitical zones in the country as well as with members of his party, the People's  Democratic Party, PDP, etc., he is offering himself as presidential candidate in the  forthcoming 2011 election.
He spoke of his achievements since he took over power following the death of former  president, Umaru Yar'Adua on 5 May this year and his desire to transform the country if  given the mandate.
President Jonathan, who said he will be making a formal declaration on Saturday, 18  September, also called on Nigerians for support and prayers "so that together we can  liberate our country from the confines of self-inflicted wounds and limitations of the  past."
The President will stage a formal rally on Saturday to announce his plans.
A few minutes before noon, IBB rode in an open sports utility vehicle, SUV, with former  Rivers State Governor, Dr. Peter Odili, the CEO of Daar Communication, owners of AIT and  Raypower, Dr. Ramond Dokpesi and a few other supporters.
Speakers at the Eagle Square, Abuja, venue of the IBB 2011 declaration flaunted IBB's  experience as his foremost qualification to lead Nigeria, 17 years after he 'stepped aside'  from power.
Chairman of the occasion and a former president of the Senate, Chief Ken Nnamani, in a  welcome address, was the first to recount IBB's experience as his remarkable qualification  to grab the nation's number one political seat.
Amid shouts of "IBB, Power" and "PDP, Power to the People," Dokpesi noted that 17 years  after IBB left office, health, educational institutions are in ruins while security of lives  and properties cannot be guaranteed.
Speaking in a similar vein, Niger State Governor, Dr. Muazu Babangida Aliyu, said the people  of the state are solidly behind their child, IBB, who he described as humble, courageous and  experienced for the task of rebuilding decaying infrastructure in Nigeria.
Former Senate President Nnamani, while addressing the supporters, said he expected a  competitive presidential primaries within the ruling People's Democratic Party, PDP, with  "an illustrious son like IBB" joining the race.
He described the declaration as historic, expressing the hope that the party will ensure a  free and fair contest.
All the speakers expressed confidence in IBB to effect the much desired change in Nigeria,  flaunting his experience.
They also declared him a detribalised Nigerian who could muster the support and cooperation  of Nigerians across tribal, regional and religious divides.
Some of the dignitaries at the Eagle Square include: Chief Alex Akinyele, former Speakers of  the House of Representatives, Ghali Na'Abba and Aminu Bello Masari, Adamawa State Governor  Murtala Nyako and Zamfara State Governor Mahmud Shinkafi.

—Oluokun Ayorinde &        Nnamdi Felix / Abuja
Load more