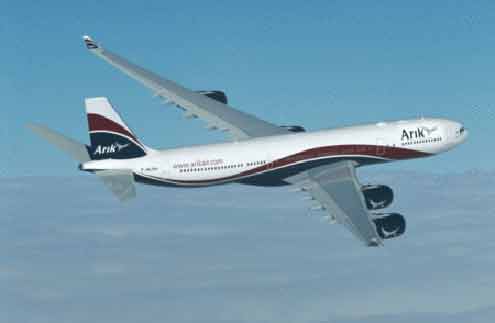 After weeks of bitter wrangling, Arik Air yesterday paid N21 million to the Nigerian Civil  Aviation Authority (NCAA) as debts.
NCAA's Director General, Dr. Harold Demuren, said in a statement to journalists that the  airline paid the money two weeks after its deadline.
"The Nigerian Civil Aviation Authority on Tuesday 14th September 2010 received a draft of  N6, 695, 385; N5, 705, 515; N1, 462, 175; N5, 898, 030 and N1, 998, 096 respectively,  totaling N21, 759, 201 from Arik Air to cover the bounced cheques.
"The bounced cheques were meant to be re-presented on 30th of August 2010. Somehow, it did  not happen," Demuren said.
The statement contradicted Arik Air's claims that it did not issue dud cheques to NCAA.
Several media reports have suggested the airline is broke, but Arik Air has described such  reports as mere speculations.
The airline has purchased many airlines in recent years, especially from Boeing. Details  about the purchase have never been made public.
—Simon Ateba
Load more