In a move obviously designed to take the shine off the declaration of former military president Ibrahim Babangida declaration to contest the Presidency in Abuja today, President Goodluck Jonathan finally declared his intention to also vie for Nigeria's number one position  in the 2011 general elections.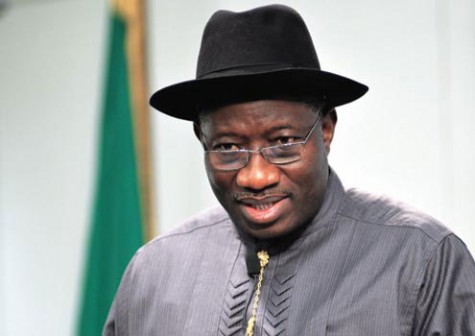 In a posting on his facebook account this morning  with the title" Declaration of Intent For The 2011 Presidential Race" said he is declaring his interest in the 2011 presidency after wide consultations across different interests and stakeholders across the country.
"Today, I confirm that after wide and thorough consultations spanning the six geo-political zones that make up Nigeria, with members of my family, my party, the opposition, civil society, the Private Sector, members of the Labour Unions, religious leaders, youths and student groups and our revered traditional institutions, I Goodluck Ebele Jonathan by the grace of God hereby offer myself and my services to the Nigerian people as a candidate for the office of President in the forth coming 2011 elections".
"I will by the special grace of God be making a formal declaration to this effect at the Eagle's Square, Abuja, on Saturday 18 September 2010", the President said
The President said though he may not have the solution to all the problems of Nigeria, he will ensure that he do the right things at all times if he is given the mandate to continue as the country's number one citizen.
"In presenting myself for service, I make no pretense that I have a magic wand that will solve all of Nigeria's problems or that I am the most intelligent Nigerian. Far from it. What I do promise is this – If I am elected President in 2011, I will make a covenant with you the Nigerian people to always do right by you, to tell you the truth at all times, to carry you along and most importantly to listen to you, fellow citizens in our communities and also those of you on this page". Jonathan said he will not promise Nigerians what he cannot deliver like the other politicians.
" Rather, I would want you to judge me by my records. Since God Almighty and yourselves permitted me to serve you in the present capacity, I have busied myself with setting Nigeria on the path of peace and progress". The President said Nigerians can judge his ability to meet their various yearnings by his performance so far in office rather than relying on empty promises.
"My team and I made no promises on adequate fuel supply in Nigeria. We simply did what was expected of those who govern, we delivered it, and you are living witnesses to that.
" We made no promise to revamp the textile industry. We delivered a bailout package worth 150 billion naira that is being dispensed as I write.
" We made no promises of securing the highest U.S Federal Aviation Administration (FAA) aviation clearance, the Category 1 Certificate which enables Nigerian registered airlines to fly to ANY U.S city. We delivered.
" We made no promise to give Nigeria a brand new INEC under a proven God-fearing and incorruptible leader. We placed Nigeria first and delivered.
" We made no promises of protecting your loans, deposits and investments in the banking industry over and beyond what is covered under the Nigerian Deposit Insurance Scheme. We delivered it via AMCON.
"Rather than tell you what we could do to improve power, this administration demonstrated it by initiating a brand new national Super Grid as well as launching a concrete Road Map to the Power Sector with realistic goals tied to realistic dates.
" We met an economy that was beginning to slow due to the global recession. Today, the economy has verifiably grown by 7% this half year ending in June.
"I know you are tired of empty promises, so I will make only one promise to you today. The only promise I make to you my friends, fellow citizens and Nigeria, is to promise LESS and deliver MORE if I am elected. I call on you to join me to work together in harmony and synergy to forge a nation where we understand our differences instead of pretending they do not exist and work towards a perfect union founded on transparency, equity and justice".
"A nation that is on her way to repairing her International reputation and project to the world that things have changed and the people of Nigeria have now taken Nigeria back from a few into the hands of her people who are eager, very eager to pull her weight in the forward movement of the African continent and the world in the pursuit of peace, prosperity and happiness.
"I call on you my friends on this page and all Nigerians to give me your support and prayers so that together we can liberate our country from the confines and self –inflicted wounds and limitations of the past.
" My dear friends and fellow citizens, to borrow an often used slogan by our youths, please join me in proclaiming: Forward Ever, Backward Never! Please let us all unite across tongue and creed to move our long suffering nation forward together. I thank you and may God bless our country Nigeria" the President who signed off the posting with his initials GEJ said in the posting. Ironically, the President who decorated the new service chiefs before the commencement of the weekly meeting of the Federal Executive Council this morning did not give members of his cabinet present any indication of his intention.
It was gathered that the President later left the cabinet meeting for Sokoto state.

Load more