Thousands of supporters for Governor Chibuike Rotimi Amaechi's government again stormed the Isaac Boro Park, Port Harcourt, Rivers State capital, Nigeria, this morning to stage a peaceful protest against the Economic and Financial Crimes Commission, EFCC's onslaught against the Rivers State government.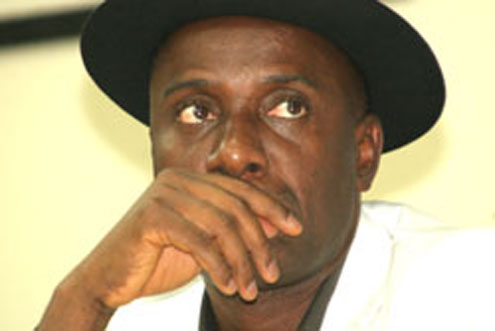 The protest took place less than 24 hours after the support group for President Goodluck Jonathan stormed the same park to drum up support for Jonathan's bid for Presidency in 2011.
Thousands of women and youths from the 23 local Government areas of Rivers State led by the Chairmen of their various councils arrived at the Isaac Boro Park in assorted colours of Tee-Shirts bearing various inscriptions denouncing EFCC.
There were inscriptions like: "EFCC,The Nigeria Gestapo?"; "EFCC obey Court order. Court is Supreme"; "EFCC please obey the law"; "EFCC Stop Grassroots Intimidation"; "EFCC is not above the law"; "Farida Waziri you are not above the law"; "Adhere to the Rule of Law," etc.
Some of the posters pasted under the bridge of Isaac Boro Park read: "They came haunting just before the 2007 elections; they are back now just before the 2011 elections. We know the trick, and it will fail now, like it did in 2007."
At about 9.45 am after protesters in their thousands converged on the park, Chief Victor Giadom, the Chairman of Gokana local Government Council, led the peaceful protest to Government House.
Governor Amaechi had protested the attempt by EFCC to arrest some commissioners and local government council chairmen in the state.
He disclosed his displeasure during the Summit on Information at the Hotel Presidential, Port Harcourt two weeks ago, that there is a subsisting court order against EFCC from arresting any official of the Rivers State government.
He urged the agency to vacate the court orders first in line with the rule of law.
Former Governor, Dr.Peter Odili, had obtained perpetual injunction against EFCC his agents and from arresting and investigating him or any official of the Rivers State government.
The court order that seem to immune officials of Rivers State Government both past and present from arrest, curious as it is, has not been vacated by EFCC.
Not long ago, Chief Nyesom Wike, a lawyer Chief of Staff to Governor and other officials were arrested over allegations of money laundering and other offences but the case was dismissed.

By Okafor Ofiebor/Port Harcourt
Load more