Against the backdrop of rising threats and un-provoked violence against officials of the Economic and Financial Crimes Commission, EFCC, its Chairman, Mrs Farida Waziri, has vowed that no measure of threat will deter her and its operatives from forging ahead in the investigation and prosecution of all graft charges being handled by the Commission.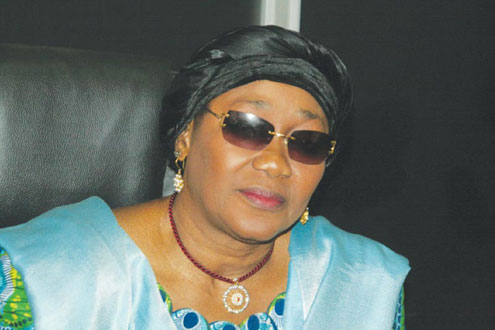 She stated this while receiving officials of Women in the New Nigeria, WINN, who were on a courtesy call to the corporate headquarters of the Commission.
"Because I made a comment that people who care for Nigerians should be elected, not those who have corruption cases pending in court, I have been vilified,  attacked with all manner of allegation that I am meddling in politics. We in this Commission have to work within the rule of law. There is a section in our Establishment Act that empowers us to relate with other agencies and bodies within and outside the country.
" I am not going to sit here and say this is the list of disqualified persons or politicians but we are going to work together with the INEC,  the SSS,  Police and even the political parties. We will tell the party leaders and advise them that,  'based on the overwhelming evidence on the candidate you are presenting,  why don't you field another candidate?'  We can advise, we have other measures too that we can take," she said.
Waziri also bared her mind on the insinuations being made over her recent visit to the United States of America on the invitation of the American government. She said that she was in the United States in furtherance of the nation's anti-corruption war and not to report President Goodluck Jonathan to the American authorities as being insinuated.
"I was invited to the US to meet with the Department of Justice and the Undersecretary of State and the President approved that visit in writing and I went and we had over four sessions. The Nigerian Ambassador was present in the meeting and when I came back, there were reports that I went to report Mr. President in the USA that he is hampering my work.
"It is even unthinkable for anyone to even think like that.   America is a sovereign nation and Nigeria is also a sovereign nation.  I am employed by Mr. President, so, why will I report him to  the USA ?"
In another reaction, Waziri condemned the sponsored protest against the works of the EFCC in Rivers State, saying that Governor Rotimi Amaechi has a penchant for making reckless statements.
She faulted the governor for insisting that none of his officials had a corruption case to be investigated.
"How can he vouch for all his officials? Whenever our operatives are in the state, he always shields the government officials and we are saying that, 'if you don't have skeletons in your cupboard, open your books, let's do our job'. We are empowered to fight corruption," she posited.
She assured Nigerians that no antics of anyone would stop the EFCC from doing its job while insisting that the Commission was not under any pressure by anyone.
According to her, "The issue that the President is using the EFCC to haunt people is not true.  I travelled and they said we invaded anti-Jonathan state governors.  This is false information that should be discouraged and it is there to mislead the members of the public. Nobody is pressuring us; we are working under the rule of law.
"We should never allow a season of break for the corrupt no matter their mischief and blackmail otherwise they will not only loot our generation dry but that of our children and the generations after them. It amazes me when some of those saddled with the responsibility of making things work better in our country descend to a ridiculous level of offering reasons why EFCC should not investigate graft allegations against certain persons or government.
"It becomes more worrisome when some say that our investigations in some states are politically motivated or that we are being influenced by the Federal Government or the Presidency. For the benefit of you my distinguished guests and the general public, President Jonathan or anybody in the Presidency has never for once interferred in our work and our investigations are absolutely devoid of political consideration.
"I challenge anyone or any state we are investigating over fraud allegations to come out and say we don't confront them with such allegations during interrogation. We can't arrest anyone for interrogation if there is no basis for that. Those that have corruption charges to answer should not hide under the fading cliché of political persecution because elections are around the corner. That is deceitful, ungodly and criminal. They must be bold enough to defend their actions in office.
"We know it was going to get to these diversionary tactics of using blackmail to evade probe the moment we announced our preparedness to collaborate with other stakeholders to ensure that 2011 elections are not only credible but that the corrupt are not allowed to pollute the process with their baggage of corruption charges."
Waziri also spoke on the issue of one of the key officials of the EFCC that was murdered recently in Kaduna. She said that the slain Abdulahi Muazu  was assassinated and not a victim of armed robbery.
She expressed the determination of the Commission to unravel the circumstances surrounding the murder of the official.
She urged Nigerians to continue to support the nation's anti-graft war to save the country from more hardship.
In her submission,  Dr. Esther Mangzha, Chairman, National Planning Committee, WINN, and leader of the six-member delegation, commended Waziri and the EFCC  for their relentless efforts in moving the anti-graft war forward.
"The anti-graft war is for every Nigerian. We know the pains and groaning you are coping with. We encourage you to continue and we will always pray for you," she said.
She also disclosed the plans of her group to mobilise the womenfolk nationwide against corrupt practices in the public and private sectors, saying that women would be encouraged to always prevail on their husbands to toe the line of integrity at all times.
Other members of the delegation are: Pastor Rejoice Madike, Pastor Bettye Phebe Uzoma; Mrs Sarah Ibrahim; Mrs Bolu Olutayo and Mrs Toyin Joe-Bassey.
Load more