Still basking in the euphoria of its success of capturing Nigerian viewers, AK Media  Concepts has now made its three productions Face-2-Face, Family Ties and Nowhere To Be Found  available for foreign viewers on United Kingdom's Ben TV.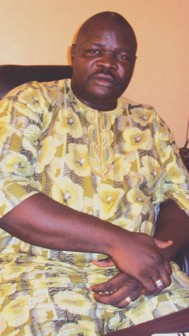 The Chief Executive Officer of the award-winning production outfit, Benson Akindeju,  disclosed that he took that decision because fans from other parts of the world have  persistently demanded for the productions.
"The pressure was just too much on us because a lot of people were calling and sending us  mails that there is a need for our Super Three to be on international stations. In a couple  of weeks now, the programmes will start showing on Ben TV.  I also want to assure our  viewers that before the year runs out, it will be on other international TV stations," said  Akindeju who just returned from a foreign tour.
Face-2-Face, as the name implies, is a drama that highlights the happenings in the face me I  face you housing system in Nigeria. It is a grassroots drama comedy that appeals to everyone  in the society because of the manner in which serious issues in the society are treated.
In Family Ties, Christy and Brume Akpede are enjoying a happy marriage until trouble  strikes. Brume loses his job and Christy is being tried in court for an oil bunkering deal.  She has to go to jail and Sade, her blossom friend, steps in to take care of her three-month  old baby. The presiding judge, who sentences Christy, has a son who has committed a heinous  crime that Sade knows about.
Justice Olayanju's son too must face the music. Meanwhile, a romance is developing between  Sade and Brume.
This drama parades actors like Alex Usifo, Femi Brainard, Thelma Okoduwa and Princess Dupe  Adetuwo among others.
Meanwhile, Nowhere To Be Found centres on Chibudem Davies, a senior partner with a grand  consulting firm dominated by men.
Chibudem returns from America and takes his children to the beach for a special treat. He  grants the children's request of allowing two of their friends to come with them. Hell is  let loose as one of the children gets missing. All attempts to know the little girl's  whereabouts prove abortive.
This mars Chibudem's reputation, as he is being accused of using the child for rituals. A  Samaritan eventually finds the girl and handed her over to her parents, but this development  is being conceal from Chibudem as they (the girl's parents) keep exploiting him.
Nowhere To Be Found parades stars like Tony Umez, Sola Asedeko, Moji Olaiya, Eniola Olaniyan  and Sunday Afolabi among others.
Load more