A 45-year old tenant, Julius Zosu, who stabbed his landlord, Olatunji John to death has been  arrested by the Lagos State Police Command.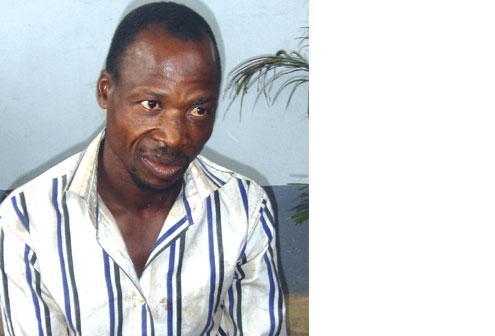 Julius Zosu, who claimed to be a native of Ogun State, resides with his landlord at No. 9,  Iyesi Road, Ilogbo, Eremi, in Morogbo area of Lagos State, South West region of Nigeria.
It was gathered that Zosu, who was paraded by the police yesterday in Ikeja, allegedly  tricked his landlord by knocking on his door, raising a false alarm that his landlord's  Toyota Carina car was emitting smoke outside.
It was on the strength of this false alarm that the landlord came out to check what had gone  amiss with his vehicle when Zosu allegedly came from behind and stabbed him several times in  the head and chest leaving him unconscious.
John Olaitan, the landlord was immediately rushed to a private clinic but he eventually died  after three days of medical treatment on13 September, 2010.
Before the incident, it was gathered that there was a fight between the landlord and Zosu,  after he was served a quit notice for owing six months rent.
According to Zosu, his landlord has previously issued him, several quite notices in the last  six months since his money expired in February, asking him to quit by the end of September,  and that the landlord had refused to collect tenement rate from him lately, owing to the  fact that he intends to give the room to his younger sister who will be arriving from  Coutonu, Benin Republic.
Zosu, who had lived there for nine years, claimed that the landlord had used charm on him  which made him lose his senses, while explaining the reason for his action. "I did it  because I thought that since he asked me to quit, let me also wound him so that it will be  equal.
"I did not know what I was doing," he explained, while he was paraded at the office of the  Police Public Relations Officer (PPRO), Frank Mba.
Mba, who described the case as homicide said, "this case will be transferred to the homicide  department of the State Criminal Investigation Department (SCID), Panti, Lagos for a  discreet investigation."
—Dedeigbo Ayodeji, Adeyera Olubunmi & Salimon Onyikansola
Load more