Ahead of the 2011 general election, one time military administrator of Kastina State,  General Lawrence Onoja, has thrown his hat into the ring for the Senate race in Benue South  Senatorial District. He said he will unseat Senate President , David Mark.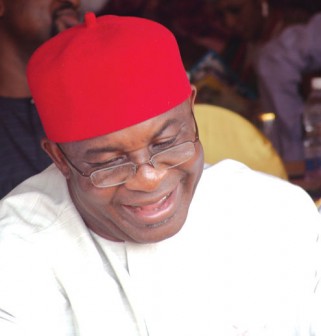 Onoja, while declaring his intention to vie for the position yesterday at Otukpo, the  traditional headquarters of the Idoma, Otukpo , said his decision to come into the race is  to provide humble , accessible and effective leadership to the people of the area
The former military administrator noticed that the indices of the Idoma political isolation  and stagnation in term of development are too obvious to be neglected.
"There is too much youth unemployment, rising profile of murderous cult activities amongst  the youth who were erstwhile thugs of our politicians, women disempowerment is on the rise  while our once esteemed and courageous leaders have been unknowingly confined to needless  membership of dead boards even as off-springs, in-laws, siblings and close relatives of our  'leaders' enjoy the biggest political perks when not qualified in the name of patronage,"  Onoja frowned.
He also condemned a situation where at each election, the quest is usually not to have the  best but to go with the perceptively powerful even if the evidence of the people's plight is  well known to such static leaders.
He said for eleven years, the Idoma people have watched with anger the fattening excesses of  their representatives with alarming arrogance in the face of their underdevelopment,  maintaining that in all these years what they can count as achievements is in terms of  entrenched nepotism, unqualified federal patronages and a few MDG projects.
While boasting that he has what it takes in formidable intellectualism, antecedent in  military experience, varied contacts and unblemished past political leadership to take on  the battle, he urged the people to rise up to the struggle of challenging these power  usurpers.
He also advised the PDP leadership in the state not to lend itself to the callous  underestimation of the will of the greatest number of its membership via automatic tickets,  saying, "those who are calling for it are undemocratic. It is desperate, autocratic and  should be resisted with all our might."
—Ubong George/Benue
Load more