Startling revelations into how former military dictator, Gen. Ibrahim Badamasi Babangida,  IBB , rented a huge crowd during his 2011 presidential ambition declaration on Wednesday at  the Eagles Square in Abuja, Nigeria's capital, have emerged.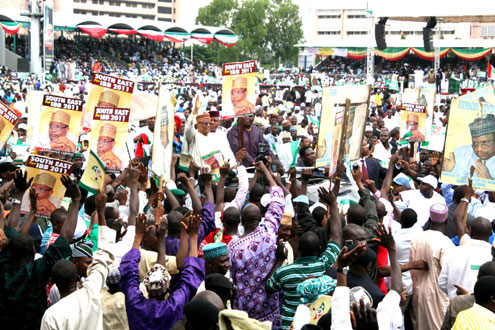 P.M.NEWS checks have revealed that the desperate general, who annulled the freest election  in the country in 1993, rented at least 50 support groups and NGOs in the bid to hoodwink  unsuspecting Nigerians into believing that he has remained popular.
However, the secret was blown open when the rented crowd protested yesterday in front of  Niger State Government House in Minna over non payment of allowances promised them by the  State Government and politicians who contracted them for the rally.
"Forty-five 18-seater buses were hired to convey us to Abuja with a promise that each one  of us will be paid N5, 000. We fulfilled our own side. We went to Abuja, shouted and danced  for IBB. The whole world saw us but instead of Niger State government fulfilling their own  part, they all ran away living us with nothing," Musa M. Rabo told journalists during the  protest.
Musa Ubale and Tijjani Umaru, leaders of other groups disclosed that they are not supporting  IBB but travelled to Abuja because of money.
He said: "We are not lovers of IBB but we were promised N5, 000 each."
They alleged that food and allowances promised them were not given to them when they got to  Abuja.
"We left for Abuja as early as 7 a.m. on Wednesday from Minna and came back at about 1 a.m.  Thursday without breakfast, lunch or dinner. We were told that money was released by the  state government (Niger) but some few people want to hijack it," a protester said.
When contacted, one of the leaders who hired the thugs confirmed that some of the groups are  yet to be paid as agreed with the group.
"Now I am in Abuja. Please, don't mention my name please," he pleaded.
Chairman IBB Vision 2011, Alhaji Ubale Marafa Kagara, said that they paid all the members  what was promised.
"Those you see protesting are not our members. We paid our people their money as promised.  You know, there are other groups from government side, some from PDP and others from NGOs  like us," Kagara said.

P.M.NEWS learnt that Niger State government through the office of the Secretary to the State  government released money for mobilisation of youths and NGOs for the IBB support rally in  Abuja.
"That is why you see them in government house not IBB campaign office. Governor Ma'azu  Babangida has released money for the job," says a government official who did not want his  name mentioned.
Special Assistant on Mobilization to Niger State government, Alhaji Yahuza Abdullahi, who  has been accused of withholding the money, was seen pleading with the protesters. He left  after he sighted journalists.
—Musa Aliyu/Minna
Load more