First Governor of Lagos State, South-West Nigeria, Mobolaji Johnson, yesterday shocked  Nigerians who honoured his book launch when he told them that as governor of the state for  eight years, he could not build his own house.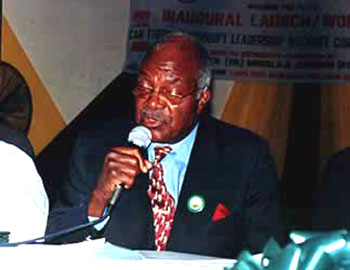 He also told them how he was ejected within 24 hoours after the Murtala Mohammed coup of 29  July, 1975 and had to be rescued by a few friends including Julius Berger, the German  construction giant.
Johnson, who was honoured by prominent Nigerians including Gen. Yakubu Gowon, ex-President  of Nigeria; Theophilus Danjuma, Governor Babtunde Fashola of Lagos and a host of others,  further lamented that when he was being evicted from the Lagos House, the official residence  of the State Governor, nobody could assist him in moving his property, not even the Ministry  of Works which he created.
He said his experience was in the book, 'My Life of Service With Integrity', broken into 12  chapters and 250 pages.
Recounting his ordeal, Johnson said: "Many of you may not know that when the coup happened  in 1975, I had nowhere to move when we were asked to move from our residence within a week.
"I had nowhere to move Funmi and the children to. I had no house of my own. That night they  lifted the curfew, I think I was the only one on the road as I went to then head of Julius  Berger Nigeria to go and plead that my house which I live in now, built on contractor  finance, should be made available to me so I could pay later.
"The head of the company, with tears in his eyes said Bolaji, you've been a good man and I  cannot allow a man like you to be treated shabbily. We will move our man out and let you  come in.
"My brother in Ibadan also sent his car to come and move Funmi and I and my family to live  with him for the period of the holiday. When the schools were about to reopen, we came back  to Lagos.
"It would touch you when you read it in that book.
"We were packing out of Lagos House when the coup happened and nobody was there to give me a  hand, even the Ministry of Works that I created did not. Everybody took cover. "It was only  my then Principal, Adeyemi Bero, who brought a truck to help me.
The head of Julius Berger also sent his workers in broad daylight to come and bring my  things to their yard."
Continuing, he said: "In 1981, I had a very bad car accident on the Lagos-Ibadan road. My  ribs got broken and entered my lungs.
"It was so bad that I had to be taken in an ambulance to the Shagamu Hospital. From there I  was moved to Lagos University Teaching Hospital and placed on a stretcher at the emergency  ward and when I saw the condition of other people with broken heads and dangling limbs, I  told myself that if I don't blow my trumpet that night, I would die.
"I started looking around and I saw a doctor passing by and I forced myself, grabbed him and  informed him that I am a former Governor of Lagos. That was when they started giving me  attention.
"In 1987, my brother died and Julius Berger came to my rescue again. In 2003, I suffered a  stroke and Julius Berger came to my rescue and took me to Germany and I was put under  intensive care till I got my balance back. So if you see me still struggling today, it is as  a result of what I suffered back then.
"In 1990, a fire started in my home at night and I was away in England. Funmi was the only  one around when the fire engulfed the whole house and it was razed to ashes.
"A neighbour called me and I called my German friend who put me on the next flight to  Nigeria only to see my wife on borrowed attires from one of our neighbours. The house was  however rebuilt and now in a better condition.
"I have been a lucky man. You could be hard working in life, you could be anything you want  to be, but I always believe in elements of luck. If you have it on your side, you see things  going your way."
While emphasising that life is a passing face, he said he had resolved to enjoy the  remaining part of his existence with his wife.
he also promised to be of use to Nigerian leaders whenever they needed advice while  expressing that his only wish is to see Nigeria taking its place among the commity of  nations.
—Eromosele Ebhomele
Load more