South Africa-based world class musician, Hugh Masekela, will storm Nigeria today as part of  activities lined up to mark the Hi-Life at 50 Concert scheduled to hold on Friday, 15  October, 2010 at the MUSON Centre, Onikan Lagos.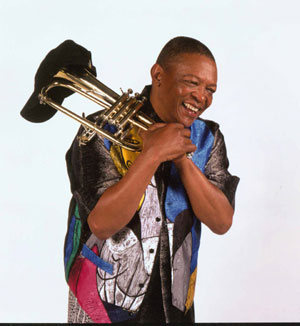 He is expected to perform alongside Mike Odumosu of BLO fame at Stadium Hotel, Iyun Road,  Surulere,  Lagos, South West Nigeria, today.
According to a release signed by Anjola Aboderin, secretary of Hi-Life All Stars Club,  organisers of the show, reason for hosting Masekela and Odumosu at Stadium Hotel tonight is  that the legendary musicians will not be available to attend the Hi-Life at 50 Concert  scheduled  for MUSON Centre.
During today's event, both musicians will be given Lifetime Achievement awards.
P.M. Entertainment gathered that during the Hi-Life at 50 Concert, legends and current  performing artistes will perform in a jam session to celebrate the genre of music, while  deceased musicians will also be remembered.
Those that will receive Lifetime Achievement award during the occasion include Dr. Victor  Abimbola Olaiya (OON), Fatai Rolling Dollar, Professor Victor Uwaifo and Orlando Julius,  while posthumous awards will be given to the likes of Bobby Benson, Ambrose Campbell, Rex  Lawson, Eddy Okonta and Bala Miller, among others.
— Bayo Adetu
Load more