Wave-making music act, Joshua Iniyeso popularly known as Solid Star, speaks with RUKAYAT  IGBANOR and TUNMISE IGE about his life, music and controversy with Toni Payne, 9ice's  estranged lover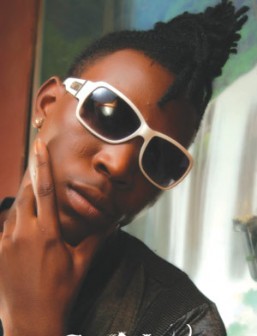 What has been happening to you?
Every good thing has been happening to me. I have two new videos on air right now. One In A  Million directed by Clarence Peters and another one, Confused, which is actually causing  some controversies right now. I did the song based on a true life story but some people are  taking it for another thing. Maybe they are guilty of what the song talks about.
Were you actually referring to Tony Payne in the song?
No, that is not true.
But we were informed that she has been accusing you of throwing jibes at her in the song?
Like I said earlier, the song is a true life story, I wasn't referring to her.
Then, why did you release the song at the peak of the controversy caused by 9ice's song,  Once Beaten, Twice Shy?
Maybe it is just a coincidence. Confused is a song I had written for some time now, so IÂ  cannot exclude it from my album simply because 9ice was having problems with his wife.
Prior to the time you released the song, what was the relationship between you and Payne?
Nothing.
You don't know her?
I know her, but we don't have anything in common.
One In A Million actually brought you to the limelight, how did you arrive at the choice of  featuring 2face in it?
2face has been my mentor for years. I have been looking up to him when he was still a member  of Plantashun Boiz group and I had been hoping to sing with him one day. So, featuring him  in the song was a dream come true.
A lot of people initially thought the song belonged to 2face because he has a lot of  influence on it. How did you feel about this?
No, I'm a very good artiste and I know that, so things like that should not shake me. When  2face listened to the song, he liked it and said he would feature in it.

Your journey to the music industry?
I started as a chorister in my grand mother's church in Ajegunle. I have been playing music  from childhood, but professionally, I started four years back.
One In A Million has a lot of Western influence and that is unlike an artiste with your kind  of Ajegunle background?
Nobody actually believed I grew up in Ajegunle. Some people even thought I'm not a Nigerian.  While in Ajegunle, I didn't join bad gangs because I knew what I wanted to achieve. And what  actually helped me more was the fact that I relocated to FESTAC Town, so the environment  inspired me to write good songs. I have very good passion for music.
Consistency is one of the major bane of Nigerian artistes. How do you see yourself scaling  this hurdle that has murdered the career of many artistes?
That is a very good question. Being consistent is about doing the right things at the right  time and above all, having the right people around you. With latest developments in the  industry, you must have a good video to gain popularity. Whoever watches my videos once will  want to watch them again. Besides, I try my best to do good songs that everybody can relate  with. And above all, you must put God first.
What about doing evergreen songs?
That's my greatest challenge. My priority is to do songs that my fans will reckon with any  time, even beyond this generation. I rehearse everyday, trying to perfect my skills and all  that, so I know that with God on my side, the sky will be the starting point.
So what has stardom changed about you?
My lifestyle. I no longer walk the way I used to walk before. The bars I used to go, I can't  patronise them again. In fact, instead of going to bars to drink, I now prefer to do it  indoors.
And if you have the chance to change something about yourself, what will it be?
I had a passion for football, but now, I can't go to the pitch to play again. I'm really  missing the soccer pitch and would have loved to go back there.
There is this belief that celebrities live false life, how true is this?
I don't know about that because I'm real and original.
How can you describe stardom?
Stardom is like living a secret life. You're always in the hiding, trying to protect your  privacy from the public.
…then that is false life, you are not real. So you live a false life?
Well, that is true.
What was your childhood days like?
Everything was bad. I grew up in the streets with my grandmom, not with my parents. My  childhood was tough, anyway.
That means you were a bad boy?
No, I was a cool guy.
But you said everything bad happened to you, okay, what were the bad things you did as a  child?
The bad things I was referring to are struggling for yourself, hawking on the streets and  all that.
What were the things you hawked?
I can't mention everything.
But you can tell us some?
I hawked pure water at the Nigerian Ports Authority. I also hawked other things and I take  whatever I earn to the studio for recording. The luck I actually had was that it was the  first song I did that attracted my sponsor, Achivas Records, to me.
What informs your choice of hairstyle?
I just want to be unique
Load more