Before a record crowd that massed at Abuja's Eagle Square including 29 State Governors, Senate President David Mark and Speaker of House of Representatives Dimeji Bankole, President Goodluck Jonathan formally threw his hat into the ring announcing his candidature in next year's presidential election.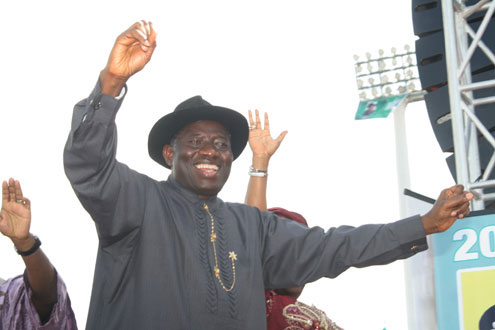 The announcement ended months of speculations as to whether he would run. He repeated his commitment to free and fair elections "even as I stand to be a candidate".
He said that he consulted widely and engaged in a thorough self examination and prayers before opting to join in the race to contest the 2011 presidency.
The support demonstrated by governors is seen as crucial for the outcome of the election.
He said his candidature would launch the country into "a new kind of leadership, a leadership that is uncontaminated by the prejudices of the past, a leadership committed to change, a leadership that reinvents government to solve the everyday problems that confront the average Nigerian".
The epoch-making event attracted representatives of support groups and PDP faithful from the 36 states as well as musical icons such as D'Banj, Daddy Showkey, among others.
"Let the word go out from here that I will be for the students, teachers and parents of Nigeria, a president who will advance quality and competitive education.
"Let everyone in this country hear that I shall strive to the best of my ability to attain self sufficiency in food production", President Jonathan noted.
His words:"In the circumstance and after a thorough self examination and prayers with my family, I, Goodluck Ebele Azikiwe Jonathan have decided to humbly offer myself as a candidate in the presidential primaries of our great party, the Peoples Democratic Party, in order to stand for the 2011 presidential elections.
"I pledge once again to all the people of this nation that they will have a free and fair election, even as I stand to be a candidate".
He tasked the anti-corruption agencies to gear up the war against corruption and respect no sacred cows in the process.
He told Nigerians that "I have come to say to all of you that Goodluck Ebele Azikiwe Jonathan is the man you need to put Nigeria right. I have come to launch a campaign of ideas not of calumny. I have come to preach love not hate, I have come to break you away from divisive tendencies of the past which have slowed our drive to true nationhood. I have no enemies to fight. You are all my friends and we share a common destiny".
He announced plan for a Sovereign Wealth Fund with an initial capital of $1billion to begin the journey for an economic restoration that will provide job opportunities and alleviate poverty while also promising that our health sector will receive priority in "a new Jonathan administration, a priority that will ensure health care and stop our brain drain".
He pledged to tackle kidnappers, criminal elements and miscreants saying they should "be ready for the fight that I shall give them".
In his address, the Vice President Namadi Sambo described President Jonathan as a humble, honest, patient and detribalised Nigerian who represents a bridge between the old and the new generation.
By Oluokun Ayorinde/Abuja
Load more