Police in the southwestern Nigerian state of Ondo have arrested the suspected killers of an ex-militant, whose murder has sparked fears of fresh violence in the Niger Delta, police said Saturday.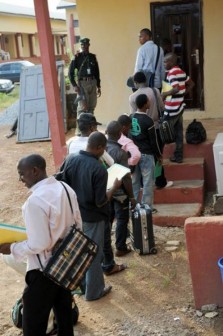 Pere Fiofori, Emmanuel Gladstone and Dobra Ogbe — aged between 30 and 35 — were arrested on Tuesday in an hotel in Ondo town and handed over to the Rivers State police in connection with last month's murder of Soboma George, in Port Harcourt, the nation's oil hub, police said.
"The suspects had been arrested and they are now in our custody," Rivers state police spokeswoman Rita Abbey told AFP.
The suspects were members of a breakaway faction of George's armed gang Icelanders and had been declared wanted over the assassination.
Police had promised a "handsome" reward for information leading to their arrests, but did not give the amount.
George, a notorious ex-gangster who was accused of helping rig 2007 elections in Nigeria, was shot dead in an ambush in Port Harcourt in an attack that sparked fears of new unrest in the area.
He was a former militant in the country's most prominent armed group, the Movement for the Emancipation of the Niger Delta (MEND), and the leader of the banned Outlaws group which once terrorised Port Harcourt.
Last year he became one of thousands of militants who signed up to a government amnesty granted by late president Umaru Yar'Adua to Niger Delta oil rebels.
The murder has raised doubts over the amnesty, which has been credited with bringing relative calm to the Niger Delta after years of kidnappings and attacks on oil installations.
Violence in the region between 2006 to 2009 played havoc with Nigeria's oil production, which dropped from 2.6 million barrels a day to about one million at the peak of the unrest.
Nigeria, one of the world's largest oil exporters, currently produces around 2.1 million barrels daily.
Load more