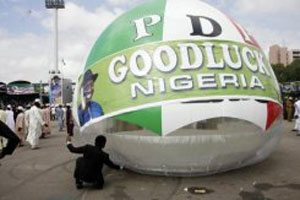 National security adviser to Nigerian President Goodluck Jonathan has resigned to compete against his boss to become the ruling party's candidate in next year's presidential election, his spokesman said Sunday.
"General Aliyu Mohammed Gusau resigned on Friday. He will obtain the form to contest for the presidential primaries of the Peoples Democratic Party (PDP) on Monday," Adekunle Adebisi told AFP.
He said Gusau will join several aspirants, including Jonathan and ex- military ruler Ibrahim Babaginda and former vice president Atiku Abubakar, to jostle for the ruling party's presidential ticket.
The PDP said its presidential candidate would be known on October 23. The election is set for January 29.
The resignation of Gusau, appointed by the president in March, came barely a day after Jonathan formally launched his campaign at a carnival-like rally in Abuja.
Jonathan's bid comes amidst a row in the ruling party over whether to support him or a candidate from the mainly Muslim north, where Gusau hails from.
The retired general and intelligence chief, had earlier served in the same capacity to former president Olusegun Obasanjo between 1999 and 2007.
An unwritten PDP policy has long dictated that the party rotate its candidates between the Muslim north and predominantly Christian south every second term as a way of smoothing over ethnic, religious and social divides in the vast west African country.
Since president Umaru Yar'Adua, a Muslim, died before his first term was up, some argue another northern candidate should be chosen.
Jonathan on Saturday declared his bid for the 2011 presidential poll, three days after announcing it on his Facebook page, ending months of speculation over his intentions.
Speaking before a mammoth crowd of supporters, he vowed to unite Nigerians and urged voters to cast their ballots for him.
"I have come to say to all of you that Goodluck Ebele Azikiwe Jonathan is the man you need to put Nigeria right," he said.
The 52-year-old southern Christian from Bayelsa State in the oil-rich Niger Delta succeeded Yar'Adua after his death in May. He had been deputy president since 2007.
Load more