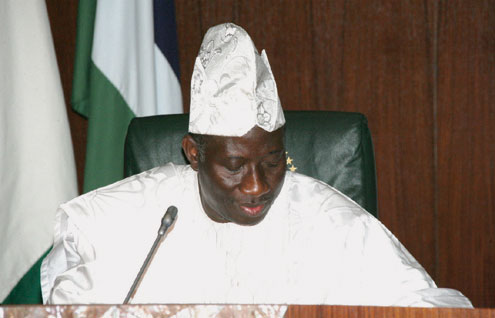 Forty months ago my predecessor in office and I embarked on a joint ticket in the  governance of our great country, Nigeria.
Sadly, he passed away on the 5th of May 2010. MAY HIS GENTLE SOUL REST IN PERFECT PEACE,  AMEN. With the death of President Umaru Musa Yar'Adua, the mantle of leadership of our  great nation fell on me.
However, the days leading to my presidency were very trying times for our nation.  We  confronted those moments and their challenges to national security with patriotism and  care. I appreciate the role played by the National Assembly, Governors, Civil Society  groups, the mass media, and other patriotic Nigerians.
The late President Yar'Adua and I shared great dreams for our country. We toiled together  to realise those dreams in order to justify the confidence Nigerians reposed in us.  Together we swore to execute a joint mandate and today I come before you to make a  pronouncement based on that undertaking.
The past four months that I have served as President of Nigeria have opened my eyes to  the vast potentials of this office as a potent instrument for the transformation of our  country. I discovered that by sheer willpower, I could end the long queues and price  fluctuations in our petrol stations.
Today, all our refineries are working, saving us huge amounts of funds spent on  importation of petroleum products. I discovered that by insisting that the right things  be done, we could begin a turnaround in our power sector by involving the private sector  in power generation and distribution.
As you can see from the lower quantities of diesel that you are buying today, power  generation has significantly improved.
I have put in place new gas policies and very soon, we will be saying goodbye to gas  flaring in our oil fields.
Working with the National Assembly, we rolled out a law that requires companies operating  in the oil and gas sectors of our economy to utilise an appreciable percentage of their  goods and services from local sources.
We saw to it that normalcy began to return to the Niger Delta by ensuring government's  fidelity to its promises, and this has helped to stabilise our national revenue.
In the last few months, I embarked on monumental projects in our road infrastructure to  end the carnage on our federal highways.
I began several projects to make our water resources available for drinking and farming.  I targeted our educational system to return quality and competitiveness to them.
I re-addressed our drive for self sufficiency in food production. I have taken bold steps  to confront our security situation.
In this regard, we are pursuing the revision of our laws to be more responsive to  international conventions and more punitive to criminals.
I set the stage for free and fair elections by constituting an electoral commission  comprising Nigerians with impeccable credentials for firmness and incorruptibility.
I charged our anti-corruption agencies to speed up the war against corruption, and  respect no sacred cows in the process.
In the management of the economy, I advocated a more transparent banking industry, price  stability, low inflation, and aggregate increase in productivity as a way to drive us to  a more prosperous economy.
In international relations, I advanced the respectability accorded our country by  effective engagement in global fora. From the moment I was sworn in as President, I came  under intense pressure to make a declaration concerning my political future, but declined  to do so because it would have immediately distracted us from all the development  initiatives we have accomplished so far.
As President and leader of this government, I decided not to place partisan politics  above the immediate needs and priorities of our people.
I therefore told Nigerians to give me time to concentrate on my work, and that at the  appropriate time, I would make a public statement on my political future after widespread  consultations.
Those consultations have now been concluded.
The Independent National Electoral Commission has recently announced a time table for the  2011 general elections in the country. My party, the People's Democratic Party, has also  published a timetable for its primaries.
In the circumstances and after a thorough self examination and prayers with my family, I,  Goodluck Ebele Azikiwe Jonathan have decided to humbly offer myself as a candidate in the  Presidential Primaries of our great party, the Peoples Democratic Party, in order to  stand for the 2011 Presidential elections. I pledge once again to all the people of this  nation that they will have a free and fair election, even as I stand to be a candidate.
In this race, I have the honour to have as my running mate, Architect Namadi Sambo, the  Vice President of the Federal Republic of Nigeria. Our country is at the threshold of a  new era; an era that beckons for a new kind of leadership; a leadership that is  uncontaminated by the prejudices of the past; a leadership committed to change; a  leadership that reinvents government, to solve the everyday problems that confront the  average Nigerian.
I was not born rich, and in my youth, I never imagined that I would be where I am today,  but not once did I ever give up. Not once did I imagine that a child from Otuoke, a small  village in the Niger Delta, will one day rise to the position of President of the Federal  Republic of Nigeria.
I was raised by my mother and father with just enough money to meet our daily needs. In  my early days in school, I had no shoes, no school bags. I carried my books in my hands  but never despaired; no car to take me to school but I never despaired. There were days I  had only one meal but I never despaired. I walked miles and crossed rivers to school  every day but I never despaired.
Didn't have power, didn't have generators, studied with lanterns but I never despaired.  In spite of these, I finished secondary school, attended the University of Port Harcourt,  and now hold a doctorate degree.
Fellow Nigerians, if I could make it, you too can make it! My story is the story of a  young Nigerian whose access to education opened up vast opportunities that enabled me to  attain my present position.
As I travel up and down our country, I see a nation blessed by God with rich agricultural  and mineral resources and an enterprising people.
I see millions of Nigerians whose potentials for greatness are constrained by the lack of  basic infrastructure. I see Nigerians who can make a difference in the service of their  country but are disadvantaged by the lack of opportunities.
My story symbolizes my dream for Nigeria.
The dream that any Nigerian child from Kaura-Namoda to Duke town; from Potiskum to  Nsukka, from Isale-Eko to Gboko will be able to realise his God-given potentials,  unhindered by tribe or religion and unrestricted by improvised political inhibitions.
My story holds out the promise of a new Nigeria. A Nigeria built on the virtues of love  and respect for one another, on unity, on industry, on hardwork and on good governance.
My fellow Nigerians, this is what has brought me to Eagle Square today (Saturday, 18  Sept, 2010). I have come to say to all of you, that Goodluck Ebele Azikiwe Jonathan is  the man you need to put Nigeria right.
I have come to launch a campaign of ideas, not one of calumny. I have come to preach  love, not hate. I have come to break you away from divisive tendencies of the past which  have slowed our drive to true nationhood. I have no enemies to fight. You are all my  friends and we share a common destiny.
Let the word go out from this Eagle Square that Jonathan as President in 2011 will herald  a new era of transformation of our country; an era that will end the agony of power  shortage in our country.
Let the word go out from here that I will be for the students, teachers and parents of  Nigeria, a President who will advance quality and competitive education.
Let everyone in this country hear that I shall strive to the best of my ability to attain  self sufficiency in food production.
Let the word go out that my plans for a Sovereign Wealth Fund with an initial capital of  $1billion will begin the journey for an economic restoration. This restoration will  provide new job opportunities and alleviate poverty.
Let the word go out that our health sector will receive maximum priority in a new  Jonathan administration, a priority that will ensure maximum health care and stop our  brain drain.
Let all the kidnappers, criminal elements, and miscreants that give us a bad name be  ready for the fight that I shall give them.
Let the ordinary Nigerian be assured that President Jonathan will have zero tolerance for  corruption. Let the international community hear that today I have offered myself to lead  a country that will engage them in mutual respect and cooperation for the achievement of  international peace and understanding.
To help me in these tasks effectively, I will re-train, revamp, and motivate the civil  service.
My dear good people of Nigeria, I got here today by the power of God and the support of  all Nigerians; all ethnic groups, North, South, East and West. I am here today because of  your support and prayers.
I want all of you to know that I am one of you and I will never let you down! I want you  to know that I will keep hope alive; I want you to know that your time has come.
I stand before you today, humbly seeking your support for me, Goodluck Ebele Azikiwe  Jonathan, to run for the office of the President of Nigeria with Architect Namadi Sambo  as my running mate. We will fight for JUSTICE!
We will fight for all Nigerians to have access to POWER! We will fight for qualitative  and competitive EDUCATION! We will fight for HEALTH CARE REFORMS!
We will fight to create jobs, for all Nigerians! We will fight corruption! We will fight  to protect all Citizens! We will fight for your rights! My dear country men and women,  give me your support, give me your votes and together we will fight to build a great  nation of our dreams! I cannot end this speech without thanking you all for attending  this occasion.
Your huge attendance is a loud testimony of your support for us.
For this I am very grateful. I pray that the Almighty God abides with you and sees you  safely back to your respective destinations.
When you return, tell all those at home that as we celebrate our fifty years anniversary  as a nation, Goodluck has come to transform Nigeria and I will never let you down.
•Speech by the President of the Federal Republic of Nigeria,  Goodluck Ebele Jonathan, on  the occasion of the declaration of his candidacy for the PDP presidential primaries, on  saturday 18 September, 2010.
Load more