Wife of the immediate past governor of Lagos State, Asiwaju Bola Ahmed Tinubu, Chief Mrs.  Oluremi Tinubu clocked the golden age of 50 today.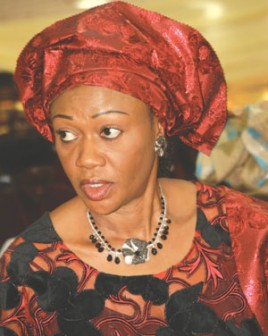 Prominent dailies were awash this morning with congratulatory messages to felicitate with  the former first lady of Lagos State.
The messages included a full page colour advert by Asiwaju Tinubu himself in which the  former governor waxed lyrical about his wife: "I celebrate you, my darling wife, today  and always. Today your 50th birthday is a golden day, a golden year of a productive and  fulfilling life.
"You came from a humble but great background. But you have risen to the zenith of public  service, especially when the cause is of the downtrodden and the underprivileged.  Within  these past 50 years, I can't believe the young lady I knew virutally yesterday, dated and  married, would still remain like a 21-year old!  And this, with all the tribulations and  challenges of my political struggles!"
As part of the activities to mark the day, Mrs. Tinubu and her family played host to  Muslim clerics who led the prayer session at the Bourdillon, Ikoyi, Lagos, home of the  Tinubus this morning.
In appreciation of her contribution to the state in particular and humanity in general,  the Lagos Island Local Government named Yaba Council Hall after her.
Related News
Similarly, the Federal Government of Nigeria honoured Mrs. Tinubu with the Officer of the  Order of the Niger, OON award.
Mrs. Oluremi Tinubu was married to Asiwaju Tinubu for over two decades and they are  blessed with children.
Also to commemorate her golden jubilee, prominent Nigerians are expected to gather at the  New Eko Hotel Expo Centre, Adetokunbo Ademola Street, Victoria Island, Lagos from 6 p.m.  to 8 p.m today to partake in a praise and worship night.
The founder of New Era Youth Foundation and Spelling Bee contest for secondary school  students, Mrs. Tinubu had earlier informed invited guests and admirers that media  congratulatory messages, gifts, cards and other presents should be minimised or at best  monetized to ensure the completion of New Era Youth Campaign, NEYOCA, office which she  has been building since 2007 at Akodo.
Among her pet projects, the Spelling Bee Competition has churned out bright boys and  girls. The winner of the yearly competition among students of public schools in Lagos, is  made governor of Lagos State for one day.
Mrs. Tinubu has enjoined friends and other well wishers to send cheques to Remi @ 50 or  pay into GTB account number 201/112323/112.