The Oshodi Sports Centre, where various football tournaments are usually hosted, wore a  new look on Sunday as the Ram Sports Promoter of Nigeria, popularly known as Ram Owners,  took the centre stage to organise a ram tournament.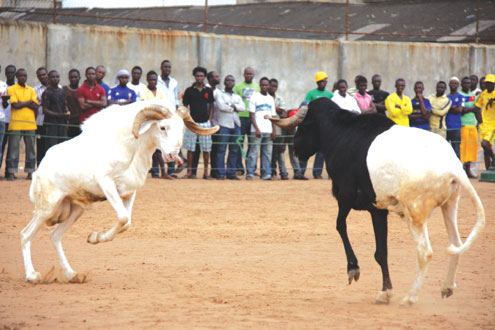 The tournament attracted about two hundred rams of different weight categories from the  South West of Nigeria. The spectators were thrilled by the display of the gladiators;  their skills, hits and endurance.
According to the President of the association, Kayode Adunmaheyin, who is a professional  marketer, the third edition of the tournament tagged Best of the Season was put together  ahead of an international competition billed for next January at the Oshodi Sports  Complex.
The tournament, which started last week and would end this weekend, would serve as an  opportunity to sell some rams as well prepare  potential gladiators for the forthcoming  tournament, which according to Adunmaheyin, is the major competition on their calendar  next year.
The association ensured that all gladiators registered for fights underwent medical check  up through their medical team. As a result some of the rams, who are not certified fit  for a bout, would not be allowed to compete.
He said the association has trained field Marshals whose responsibility are to take  absolute control of the field in terms of number of hits, unruly attitude of gladiators,  etc.
The count of hits determine the winner of a particular bout and special measure are  always available to ensure that the rams are well protected in the ring.
He said the sport has become a source of empowerment to ram owners who for couple of  years have been nurturing gladiators, explaining that a ram bought at the rate of N40,000  could be sold for a minimum of N250,000.
He said the prices are usually high when the ram owner adds medical bills, upkeep  allowance and the cost of animal feeds purchased.
Adumadeyin, however, said lack of sponsorship is the major challenge facing the  association. To tackle the problem, he said they have embarked on an aggressive marketing  to source for corporate bodies that can partner with them.
He said the association has also concluded plans to attract other West African countries  to work with them as  a unified body to breed cross fertilization of ideas to build a  virile Ram Sports in Africa.
On security of persons at the tourney, he said the association has never put in doubt the  neccessity of engaging the service of the police to curb violence, which is associated  with sports generally.
Load more