If heaven was manned by the Nigerian police, Angel Gabriel would ask those killed in  motor accidents to go back to the world and get police reports, Prof. Wole Soyinka has  said.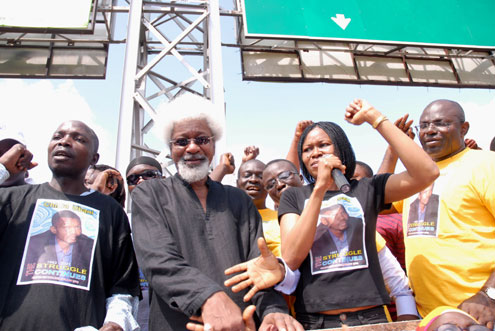 The Nobel Laureate said this while lamenting the activities of the police this morning at  a gathering to mark the 5th anniversary of the death of the former Executive Director of  the Civil Liberties Organisation, Comrade Chima Ubani, in Lagos.
The event, organised by Dr. Joe Okei-Odumakin of the Campaign for Democracy, had hundreds  of civil and human rights activists in attendance.
According to Soyinka, who lamented the death of Ubani, the issue of doctors getting  police reports before commencing treatments on individuals had caused more harm than good  in the country.
He described the late Ubani as a victim of democratic struggle, adding that the late  activist and Dr. Beko Ransome-Kuti were part of the struggle that saw the birth of the  Democratic Front for Peoples Federation.
Soyinka accused the police of causing several deaths, saying they should be held  responsible.
He said the late Ubani, after being hit by a careless driver, could not get treated by  doctors because they needed a report from the police.
"This man, still breathing, savable, was taken to eight hospitals, I repeat, eight  hospitals, but he would not be treated unless he had the police report," Soyinka said.
He advised the Inspector General of Police, Abubakar Ringim, to revoke the decision on  police report describing it as worthless.
Chima Ubani's last months on earth were taken up with coordinating the response to  another increase in the price of petrol introduced by the Federal Government.. He was  killed in a car crash on the way back from a rally in Maiduguri on 21 September 2005.
Those who attended the event displayed placards calling on Nigerians to stop former  military President Ibrahim Babangida from contesting the 2011 presidential election,  reminding them that he was the one who killed the country's hope in 1993 by annulling the  presidential election won by the late MKO Abiola.

—Eromosele Ebhomele
Load more