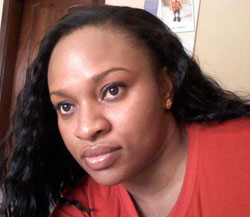 Politics is a very interesting part of our society. I use to be one of those that hate  and detest politicians. But time has a way of changing people and giving us a very  different view of things. I used to criticize religious leaders like Tunde Bakare and  Cardinal Anthony Okojie when I see them discuss politics. Now I am more matured to know  that politics isn't as bad as we paint it. The problem is that Nigerians go about it the  wrong way.
I am happy that today we have so many women in positions of leadership. We have someone  like Abike Dabiri who has stood out in the National Assembly. We have our own Professor  Dora Akunyili who has weathered the storm to make it this far. We have so many other  female politicians like Chris Anyanwu, Florence Ita-Giwa, Iyabo Obasanjo; the list is  endless. I know some of them are there in Abuja using young gigolos to sate their  insatiable sexual needs.
I am not saying they got it right in politics but I am happy that we now have so many  Nigerian women coming up to say yes, we can. I am also happy that Nigerian women are  getting more and more educated and occupying good positions in the different sectors of  our economy. Politics is getting quite interesting with so many women becoming interested  as the days go by.
I am enjoying every bit of it and I believe I hope to be there someday because we need to  make some changes in our great country. But this doesn't change the fact that there are  still some little mistakes we make as women when it comes to politics.
The whole place is heated up; preparations are being made for 2011 elections. Last week  was filled with so much tension in the different political parties due to the  declarations of the PDP presidential candidates. Women did terrible things just for last  week and this left me thinking what will happen by the time the game proper is on.
The major political events for last week took place in Abuja. The airports were filled  with women, young and old travelling to Abuja. In my usual manner, I cracked a joke over  the phone with my cousin in Port Harcourt: What if the devil enters any of these  politicians and there was a plane crash? I saw my fellow girls move like sheep without a  shepherd to Abuja. So many women left Lagos to Abuja last week just because they had to  sleep with our politicians and make some little, filthy cash or possibly get some  contracts. It is sad seeing that most of these ones are even matured, married women who  are ready to do anything just for that contract. Girl, nothing is worth your precious  body.
Back to politics. Recently while having a discussion about the involvement of women in  politics, I told a friend who is running for the House of Reps, that as women, we are our  own worst enemies. Why do you think we have more men in politics than women? One of the  reasons is because women hate themselves. A woman will rather support a man than a fellow  woman who is better than that man. This does not just happen in politics, but everywhere.  If women are going to take their place come 2011, we must rise to begin to support our  own in all sincerity.
Enough of neglecting ourselves. Enough of the feeling that she can't deliver. Deal with  that terrible spirit that makes you feel you should be the right person for that  position. This is our major problem and I feel the new generation of women should deal  with this disease that is eating deep into us.
Another mistake women make is that so many of them easily forget where they are coming  from. They get carried away the moment they get there. So many of our female politicians  have forgotten their homes, husbands and children. So many of them no longer know what  their families eat or how their children live.
You could be one of those women who have made up their mind for politics come 2011. It  would be wise making up your mind on your dos and don'ts before you set out. Count the  cost and decide to take the risk before you talk about it. This is a time when women hide  under the name of politics to do all manner of evil. Your husband knows you must attend  political meetings and that has given you the privilege to jump from one bed to the other  and visit different native doctors. Don't let your desperation for that position make you  lose your pride. You can do without it.
In politics, so many people are dishonest. All we get from them are empty promises that  never come to pass. Please try as much as you can not to make promises you know you won't  keep. I am of the opinion that some issues are better kept out of politics. I was so  ashamed of myself when I read about women coming out with the threat to deny their  husbands sex if Jonathan did not declare. What a pity and at the same time I saw it as  something a very good number of men would have appreciated as that was going to be a  certificate for extra marital affairs.
Well this is not where I am going. All I want to say is that as Nigerian/African women,  we shouldn't lose our pride. How much were they paid? What kind of promise could have  made old, matured women come out to make such a threat? Female politicians please don't  let our men begin to see us all as birds of same feather.
I see women being used to rig elections. But I believe that as mothers of the nation,  there are things we shouldn't do. I was amazed seeing the then Ekiti State INEC  commissioner drag her name in the mud because of power and position. I wonder why such an  old woman, who should be on retirement, will stoop so low to commit such an unforgiveable  offence. Politicians go to towns meeting and churches giving out money to women leaders  just to get their votes. You know that he is not going to do anything for your people,  but you chose to trade your future and that of your children.
Girl, I know you are warming up for the campaign period when you will be moving from one  state to the other and from one politician to the other. Have you ever sat down to think  of your life and safety? You have chosen to be a call girl for the politicians. This is  the period you will get to know what the different hotel rooms in town look like. I know  you have started making all your connections to be among the frequent callers in their  hotel rooms. But I think you should be able to work hard with your hands and not your  body.
You can still make money this election period and have your pride intact. People should  relate with your for the beauty of your brain and never for the beauty of your body.  Yes,we all get attracted to beautiful things and people but you should be able to get  people to respect you for your intelligence and smartness more than they do for your  beauty.
If you have decided to run, the best support you can get is that of your family.  Remember, never allow anyone use you as a tool of immorality to achieve their selfish  goals.
Load more