A 20-year-old student of Lagos State Polytechnic, LASPOTECH, Surulere campus, Lateef  Pedro, has escaped from ritualists'den.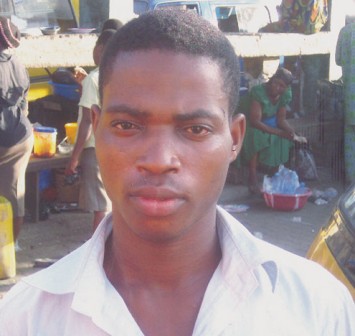 The 100-level student, who recounted his ordeal  with the ritualists, warned commuters  plying the Shagamu, Ijebu-Ode-Lagos route to be very vigilant when they want to board a  vehicle.
Explaining how he was kidnapped, Pedro said the driver of the vehicle he boarded from  Ijebu-Ode  pretended he was going to Lagos and told him the transport fare was N100 which  he thought was cheap not knowing it was a bait.
He said the private car driver drove him and other passengers to the ritualists' den  inside a bush on the Lagos-Ibadan expressway just after descending the overhead bridge  linking Abeokuta with Ibadan.
"I was going back to school in Lagos and while waiting at the Shagamu express road  junction, a red Volkswagen Gulf car stopped with two occupants wearing white garment.
"When the driver told me he was going to Lagos and the fare was N100, three of us  scrambled to enter the vehicle.
"But on the way, the driver suddenly veered into a bush path and when we protested, he  told us he was trying to avoid traffic jam in Mowe and we believed him," Pedro recounted.
"As we went deeper into the bush, the driver suddenly stopped beside a makeshift hut and  two huge men came out armed with guns.
"They ordered us to alight and started mocking us, saying this was Lagos and that we were  already dead."
Pedro said they were ordered to remove their clothes while they wet their bodies with  water and started flogging them.
"We were beaten until one of us collapsed and died.
"We were dispossessed of our belongings and they told us we would be sacrificed by 12  midnight.
"But at 8 p.m that night, the ring leader suddenly pointed at me and asked me to get up  and leave the place because I had a stubborn spirit.
"He directed one of his aides to return my belongings and escorted me to a place. From  there I was able to trek to Mowe town before I could get  assistance and got back to  Shagamu," he said, appealing to the Ogun State Police Command to intensify patrol around  the area.
—Paul Iyoghojie
Load more