Uchenna Agba was one of the nominees for the Inter Club Player of the Year award in 2009  on the strength of his performance for Heartland in that year's edition of the CAF  Champions League. He netted a brace against Kano Pillars in the semi-final. Agba spoke   with SuperSport.com about his current club, CS Sfaxien, his ambition to win the league  and an African trophy.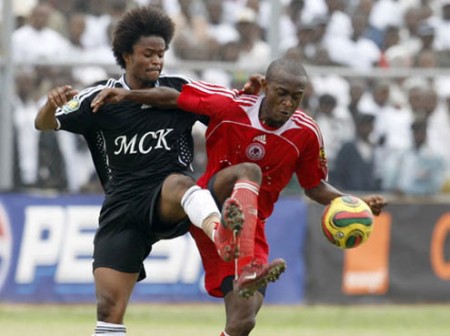 You scored in CS Sfaxien's 2-1 win over Zanaco of Zambia in the Orange CAF Confederation  Cup, and it was actually the winning goal of that game last Friday. Was it an easy goal  for you?
It wasn't easy at all, but to have scored the winning goal really pleased me.
Were you worried when Zanaco kept the score tied at 1-1 till half-time?
No, I wasn't because we were totally in control of the game, but I never wished the game  ended that way.
Now your team are in pole position to reach the semi finals  from Group B of the Orange  CAF Confederation Cup, do you think CS Sfaxien can win Africa's second tier club  competition this year?
Yes, of course, every participating team have got a chance to win. But for now all  efforts are channelled to see that we reach the last four of the competition and then we  will be looking at going further in the competition. We will aim to finish as high as we  can this year.
You have seamlessly settled down at CS Sfaxien after joining them from Heartland  Football Club this year, how easy was this considering the difference in language and  culture between your native country, Nigeria and Tunisia?
It's not been easy I must confess to you though on the pitch football is one language.  But discipline is a core value which has been keeping me up, and I don't intend to change  that attitude now.
On arrival at CS Sfaxien early this year from Heartland FC, what first struck or  impressed you?
I was impressed at the level of organisation exhibited by the clubs and the Tunisian FA  especially and the exceptional officiating that allows you to play good football. I think  the latter has affected my game so much. I think the Tunsian league is better organised.
What target have you set for yourself with CS Sfaxien this season?
It will be winning the Confederation Cup and the Tunisian league with CS Sfaxien by the  grace of God.
So far which team or teams do you dread and consider as threat or threats to these  ambitions?
Well, I'd say Esperance and Etoile du Sahel because they have good teams too. But for me  nothing is impossible.
Load more