Authorities of the Video Rental Operators Association of Nigeria, VROAN, have denied its  involvement in the boycott exercise that took place in Idumota on Monday.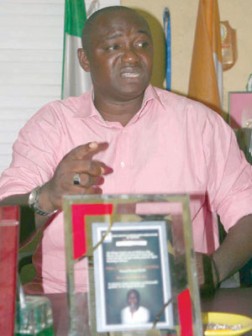 NollywoodReel

gathered that on Monday, some retailers boycotted all the Yoruba movies  that were being marketed in Idumota. The National President of VROAN, Kassim Olatunbosun,  a.k.a. Boe, has said that his members were not involved.
"It was business as usual because all our members were in the market to get the new  films. So if  something like that happened, it was definitely not from our members," he  said.
"VROAN is more concerned about the growth of the movie industry and will therefore not be  part of any action that will be detrimental to it."
Meanwhile, in a letter dated 14 May, 2010 and addressed to the Yoruba Video Film  Producers/Marketers Association of Nigeria, YOVIFPMAN, the authorities of VROAN made its  intention to remit rights on selected films so that producers of such jobs can start  reaping the fruits of their labour.
Boe told NollywoodReel that to this end, his association has decided to remit rights on a  few selected films that will not be less than 15.
"This will also serve as a platform to control the number of films that are being  released into the market. We want to encourage our people to produce more quality films  so that the viewers can get value for their money. Having said that, I must commend the  support of the Association of Yoruba Theatre-Arts Practitioners, ANTP and YOVIFPMAN  because they have proved to be agents of change," Boe said.
The video rental association is currently making plans to stage an award come 23 October  this year.
The award, according to Boe, is designed to honour those that have contributed immensely  to the growth of the Nigerian entertainment industry.
Load more