President Goodluck Jonathan has assured the world that his participation as a contestant will not affect the credibility of the 2011 elections.   The President who gave this assurance while speaking during a short meeting with the United Nations Secretary General, Mr. Ban Ki Moon at UN headquarters in New York on Friday also affirmed that Nigeria's 2011 elections will be free and fair.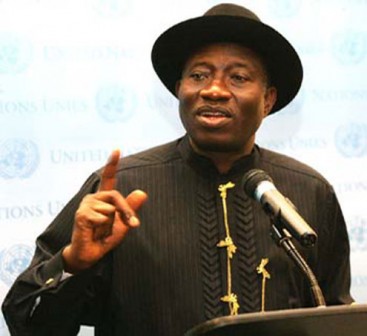 "Whether I am a candidate or not, I will not compromise the standards in the conduct of free and fair elections in Nigeria", Jonathan said in what seems to be his first direct response to calls in some quarters that that his non participation in the forthcoming general elections as a candidate will ensure his neutrality and thus, an impartial supervisor of the polls.
"The Nigerian Constitution provides for two terms for any occupant of the Presidency, so we must set standards for a sitting candidate to conduct credible elections", noted the president who added that he had already supervised the conduct of successful elections where his party candidates lost.
While speaking during the general session of the UN Assembly later on Friday, President Jonathan also expressed Nigeria's concern at the proliferation of small arms and light weapons, and called on the global body to initiate moves that will curb situation which he noted has become a challenge to peace in many countries, especially in the Africa.
According to him, an instrument similar to the Nuclear Non-Proliferation Treaty was needed if small arms and light weapons will be curtailed from reaching unofficial users.
"If a strong instrument can be put in place, about 50% of the funds spent by the UN on peace-keeping will be reduced, while many governments will be able to check militancy, armed robbery and rape", he stated.
President Jonathan assured the United Nations that Nigeria would continue her efforts at ensuring peace in West Africa, Africa and globally, and thanked Mr. Ban Ki Moon for organizing the High Level Meeting on Sudan, as well as using the services of Nigerians in top-level positions in the UN System.
Earlier, the UN Secretary General had commended President Jonathan's leadership, especially in Nigeria, and West Africa, where ECOWAS efforts at peace in Guinea Bissau and Cote d'Ivoire were noteworthy.
He welcomed President Jonathan's commitment to free and fair elections in Nigeria, and renewed the UN offer of technical assistance.
Oluokun Ayorinde/ New York
Load more