Nobel laureate Prof. Wole Soyinka has said that there is no cause for celebration as Nigeria marks 50 years of nationhood with fanfare.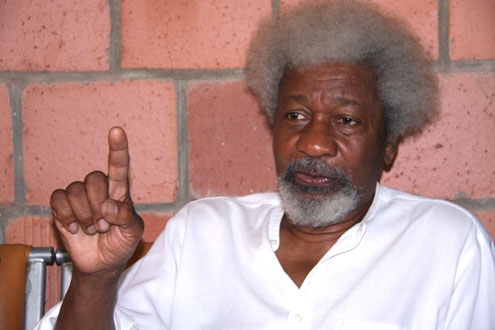 Soyinka, in an exclusive interview published in the current edition of TheNEWS magazine, said those celebrating Nigeria's golden jubilee lack memory.
He said those celebrating "were born into an entity, into a muddled example of what a developing society should be."
The renowned playwright lamented that wherever he turns, what he sees are wasted opportunities and dashed hopes; a nation grappling with failure of leadership, where nothing is working.
According to him, "Nigeria is living at the moment in a state of self-deception. It is still a colonial society; this time, a product of internal colonialists – military colonialists. The former military regime instituted a centralist government. They were able to position their own creatures in sensitive positions till today. I can't point to one single military personnel who is now a senator or House of Representatives member or president or governor who can honestly say on his honour as a soldier that he was elected. They were not elected, but positioned!
"That includes Olusegun Obasanjo. He cannot say he was elected. He never was. After all, this particular individual had tasted the other side world. He should know what it is to live on the other side. And therefore, he might serve as a bridge. But he would never want to hear about constitutional review. On the other hand, he had enough cheek to threaten us with arrest, trial for treason if we dared, as free citizens, to meet and discuss how we wanted to cohabit or be ruled. Can you imagine the impudence, such arrogance, a misunderstanding and total ignorance of the working of history?"
He added: "That a people, after liberating themselves from two sets of colonial powers, now say, let us now review the articles of our association in full freedom this time, not as a document imposed on the people. He threatened fire and brimstone. That was when I attended for the first time the meeting of PRONACO, if you remember. We said, OK, let them come, let us see even where in the constitution that they forced down our throats, where it says, you and I cannot meet and discuss.  That is the kind of impudence that we had to receive from these impostors who, like the first generation of leaders, considered themselves as imperators.
"So when people talk about democracy and celebrating 50 years independence, I really try to count: what proportion of the 50 are we truly independent? We have not extricated ourselves from the incubus that the military represented. The centralised control of resources, unsolved political murders, left, right and centre continue till today. Then, there is kidnapping which cannot be justified. We have total degradation of culture. The culture of kidnapping where taxis are stopped on the streets and people are taken off, irrespective of whom they are, taken into safe houses somewhere and are given cell phones to phone their families.
"Up till now, are you telling me it is impossible to take action to stem that anomie? There is an emergency. We are living in an emergency.  What are we celebrating?
"Celebrating the fact that during the democratic period, a whole state could be sacked in broad daylight – I am talking about Anambra. The state was held to ransom by a few people with the president sitting down, looking on – in fact, obviously with his connivance. And people of this nation did not rise in defence of the people of that state. You must understand if I say I don't feel like celebrating."
Read his full interview in the current edition of TheNEWS magazine now on sale nationwide. Or visit www.thenewsafrica.com.
Load more