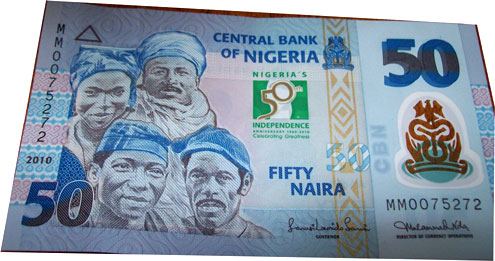 The Federal Government has declared tomorrow half working day for Nigerian workers in  commemoration of Nigeria's 50th Independence Anniversary. Friday, 1 October is a public  holiday.
This was announced at the Federal Executive Council meeting this morning by President  Goodluck Jonathan who also ordered the Minister of Interior, Captain Iheanacho to make a  formal announcement of the holiday to Nigerians. This was one of the highlights of  today's FEC meeting which lasted only 48 minutes.
Also, specially redesigned N50 note and 22 carat non circulating coins to commemorate  Nigeria's golden jubilee independence anniversary were launched during the brief  ceremony.
Lamido Sanusi, the Governor of the Central Bank of Nigeria, who presented the notes and  the coins to President Jonathan for launching, said the redesigned N50 note will  circulate along the existing one.
The redesigned note has the anniversary logo, a strip of gold band and a varnished  message that reads: 1960-2010, 50th Independence, which can be seen when the currency is  tilted.
Meanwhile, President Jonathan departed Abuja for Lagos to review the fleet of the  Nigerian Navy immediately after the FEC meeting which started promptly at 10am.
October 1, the date Nigeria got its independence from Britain, will be heralded with  fireworks, Yayale Ahmed, Secretary to the Government of the Federation, SGF announced at  the FEC meeting this morning while outlining some of the programmes scheduled to mark  Nigeria's 50th independence anniversary.
The President will host a banquet for distinguished Nigerians in Abuja tomorrow where 50  important personalities, including a number of deceased and living Nigeria's founding  fathers will be honoured with medal. The President is also scheduled to hold another  banquet in Lagos on 2 October.
The grand finale of the event will be the parade at Eagle Square on Friday which will  feature military parade, parade of Nigeria's military hardware, callisthenic displays and  maneuvers by jets of the Air Force which will be flown direct into Abuja from Makurdi on  that day.
Meanwhile, the city of Abuja is already agog for the celebration of the independence  anniversary as the roads are being decorated while rehearsals have continued at the Eagle  Square for the Friday grand event.
—Oluokun Ayorinde/Abuja
Load more