Barrister Efiok Cobham, the Cross River State deputy governor has described the President  of Believers' Loveworld, Pastor Chris Oyakhilome as a worthy  role model for the present  day generation of Nigerians.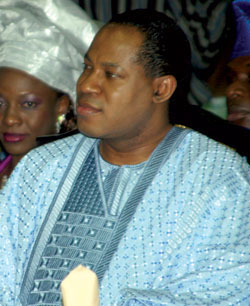 Barrister Cobham made the comment Wednesday night while flagging-off the 2010 Reachout  Nigeria Rhapsody of Realities campaign at the Christ Embassy Church , Calabar.
He said the 2010 campaign was significant because it coincides with the 50th anniversary  of Nigeria 's Independence . "In the past fifty years we have seen quite a lot, a lot of  opportunities some lost, some utilized and during this time we have sen the rsie of a man  of God in the person of Pastor Chris Oyakhilome who is a worthy role model for our  generation."
Barrister Cobham described the Reachout campaign as a silent but effective revolution  that is changing the mindset of Nigerians "To change a man is to change his mindset and  Pastor Chris has chosen this medium  to change the mindset of Nigerians and I am one of  those who believe along with him that we  make this country truly great which is the the  image of God for us".
He called on Nigerians to take a critical look at themselves as the only way to attain  greatness is to  believe and take pride in the strides and prospects of the nation.
He said the Reachout Nigeria campaign has touched the lives of many and thanked God for  giving Nigeria such a peson.
Pastor Marcel Obode, the Senior pastor of Christ Embassy Calabar said the Reachout  campaign started a few years ago by  the ministry as a medium to touch the life of  everyone in Nigeria and beyond.  "We may have been faced with a lot of challenges as a  nation and may not have voted to be amalgamated, but now that we are one nation God wants  us to live together and and be a great nation."
—Emma Una/ Calabar
Load more