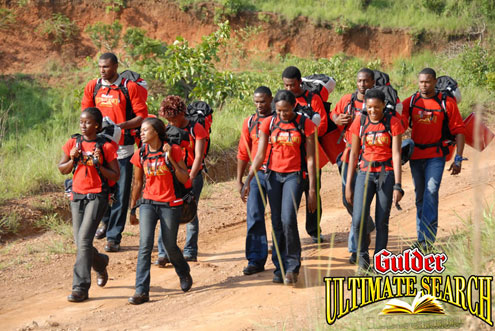 For the next 21 days, millions of television viewers across Nigeria and Africa will be  treated to exciting moments of adventure, fun and suspense as the seventh edition of the  hit television reality show, Gulder Ultimate Search, GUS, hits the screen from Saturday.
Already, 12 young, strong and able-bodied Nigerians are in the Omo Forest Reserve in Area  J4, Ijebu East Local Government Area of Ogun State where they will slug it out for the  honour of becoming an 'Ultimate Hero'.
The contestants–an equal mix of six young men and ladies–emerged successful from tens of  thousands of youth that participated in gruelling auditions held across the country.
There are additional two contenders-a male and female-which was a departure from the  usual 10 contestants in the previous series of the show.
The lucky contestants are:  Oshinmade Adeleke Oluwaseun, 22, from Ogun State; Ahmed   Sabdat  Bamitale, 27, from Kogi State; 23-year old Ebhodaghe Mercy Itohan  from Edo  State; Dandison  Strongface, 22 , from Rivers State; 24-year old, Okorougo Simeon Iruka  from Imo State and 21-year old Anyanwu Chukwuma also from Imo State.
Others are  21-year old ,Oduah Tonia from Delta State; 23-year old Oluwaremi Kunle from  Ekiti State; Kadiri Atiku Mohammed, 23-year old from Edo State; Mbanu Caroline Ukachi,  22, from Imo State. 23-years old Chinenye Ofoegbu Ozioma and 22-year old Oduche Adaobi  both from Anambra state complete the list.
They were unveiled on Saturday 18 September, 2010 at a selection party held at the Lagoon  Restaurant, Victoria Island, Lagos.
Explaining the rationale for the inclusion of the extra two contenders unlike previous  editions of the show, Ageni Yusuf, Corporate Affairs Adviser, Nigerian Breweries plc,  sponsors of the show said it is  in the spirit of the 40th anniversary of the Gulder  brand in Nigeria and the ongoing Golden jubilee anniversary of the country..
Yusuf added that the 12 men and women have already entered the forest so dense even  sunlight struggles to permeate.
The last man standing in this year's search will go home with a cash prize of N7 million,  a  SUV worth N10 million and N500,000 for  wardrobe  allowance.
Others will go home with consolation cash prizes ranging from N350, 000 and N2.5 million,  depending on the length of their participation in the search. In the event of a woman not  emerging the winner, the 'Last Woman Standing' gets an additional N1million.
The maiden edition of the GUS was held in 2004 at Snake Island in Lagos State. The second  edition in 2005 was at the Obudu Hills, in Cross River State. Nifor in Benin, Edo State,  played host to the third edition in 2006. The fourth edition was held in 2007 at the  famous Sheri Hills in Jos, Plateau State. Awgu Hills in Enugu State was host to the fifth  edition in 2008, while the sixth edition in 2009 brought out the tourism potentials in  Omodo forest in Osun State.
—Funsho Arogundade
Load more