Confusion persists over the number of casualty in three bomb explosions which rocked Abuja, Nigeria's capital and nearly marred the country's golden jubilee independence celebrations. Police Bomb experts were still combing the scene of the explosions for clues on the identity of those behind the incident as at the time of writing this story.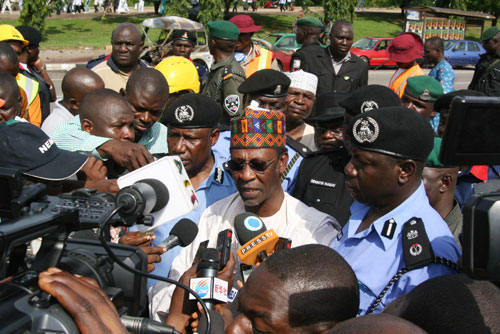 Obviously planned to rattle Nigerian authorities, one of the explosions occurred as the elaborate Independence Day celebrations involving military parades, march past by students and display of military hardware took off in Abuja at the Eagle Square venue of the celebrations.
President Goodluck Jonathan was at the venue when the blast went off. Also present at Eagle Square were former Nigerian head of states and invited dignitaries who were in the country to witness the golden jubilee celebrations.
It was not clear if the blast claimed any casualty, but a security official was seen lying near the scene of the incident.
However, two other car bombs exploded less than a kilometre from the venue of the event, just some metres away from the prestigious Transcorp Hilton hotel. A taxi driver told journalists that the car explosions occurred around 11.30 am and that he ran away abandoning his vehicle immediately he heard the blast. He was however wounded by the explosions.
The vehicle in which the bombs were planted was parked along the road which has been sealed off since early this morning as a result of the Independence Day celebrations.
Police authorities said the two car bombs claimed the lives of seven persons, but an eyewitness told P.M.News that he personally counted 12 bodies being taken off the scene while scores of others were injured. Yakubu Lame, the Minister of Foreign Affairs told journalists that eight people lost their lives in the blast. Â Gabriel Naku, whose car was damaged by the blast however put the number of casualties at 18.
According to him, most of the casualties were people who rushed in to see what is happening immediately the first car bomb was detonated. He also claimed that  one or two officials of Federal Fire Service may be among the dead.
By Oluokun Ayorinde/Abuja
Load more