The campaign organization of President Goodluck Jonathan, the Goodluck/ Sambo Campaign Organisation has called on security agencies to do anything possible to fish out the culprits behind the bomb blasts that rocked Abuja, the Federal Capital Territory this morning.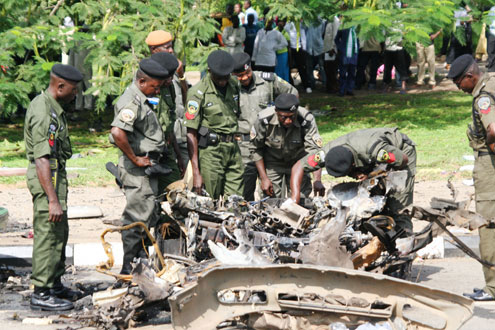 The Organisation also said the security agencies should do their work without prejudice to previous claims by any group.
In a press release signed by Sully Abu, the Director of Media and Publicity of the organization this afternoon, the campaign group tasked security agencies "to get to the bottom of this mischievous act no matter what claims have been made by any group and fish out the perpetrators for exemplary punishment according to law".
The Jonathan/ Sambo Campaign organization also called on the security agencies to be on high alert so as to be able to prevent future occurrence.
In a veiled reference to the fact that the bomb blasts may have been politically motivated, the Campaign Organization also tasked politicians to henceforth based their campaign on issues "rather than engage in brickbats, accusations and counter accusations which raise the political temperature and thus create room for anti-social elements to carry out their nefarious activities, our politicians must learn to engage one another in a peaceable fashion, devoid of acrimony and incendiary language.
"We must all centre our political campaigns around issues that touch on the lives of the Nigerian people and how to ensure that before our centennial, we join the front ranks of the most developed nations on earth.
"This surely is far more productive than engaging in calumny and diversionary arguments that overheat the atmosphere.
"This has been repeatedly emphasised by the Goodluck/Sambo Campaign Organization and is the over-riding lesson of today's bomb blasts", the campaign group said.
By Oluokun Ayorinde/ Abuja
Load more