President Goodluck Jonathan has absolved the Movement for Emancipation of the Niger Delta, MEND of complicity in the bomb blasts which claimed over scores of lives as the country was celebrating its golden jubilee independence anniversary in Abuja yesterday.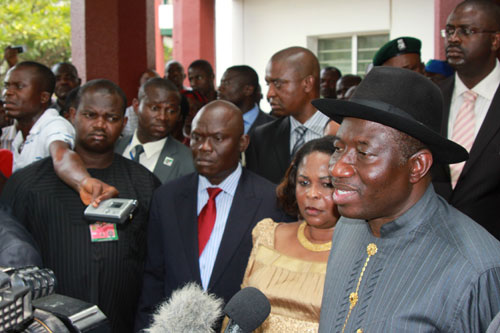 In his first public reaction to the bomb blasts which took place less than a kilometre away from Eagle Square where he was inspecting a military parade in commemoration of the  nation's 50th independence anniversary yesterday, President Jonathan said terrorists were behind the deadly explosions and not MEND.
However, MEND had not only claimed responsibility for the deadly attacks, the militant had in an e-mail messages to some media houses warned of the impending attacks and advising people to evacuate areas close to the venue of the independence celebrations about an hour before the explosions went off.
Contrary to this claim,President Jonathan however absolve the group of responsibility for the attacks in his address at a colloquium in Abuja by the ECOWAS Parliament.
Jonathan, at the event which was organised to celebrate African countries which are also marking their golden jubilee anniversary this year also delared that MEND is not a terrorist group.
"What happened yesterday was a terrorist act and MEND was just used as a straw; MEND is not a terrorist group," the President said.
He added that the people of the Niger Delta are aware of the efforts of the present administration to address the deprivation of the past and will not do anything to jeopardise the opportunity.
"It is erroneous to think that my people who have been agitating for good living will deliberately blow up the opportunity they have now," Jonathan said.
The President who prayed for the repose of the soul of those who lost their lives to the blast however promised that the nation's security agencies will be restructured to be able to tackle such attacks in the future.
Meanwhile, President Jonathan today visited some of those injured by by bomb blasts at the National Hospital, Abuja in company of first lady, Mrs Patience Jonathan.
During the visits, the President sympathised with the victims of the bomb blast and promised that government will be responsible for their hospital bills.
Security has been beefed up around Abuja as a result of yesterday attacks. There are heavy police presence around major hotels in the capital city.
By Oluokun Ayorinde/Abuja
Load more