A 74-year old landlord in Ifako-Ijaye area of Lagos State, South West Nigeria, has given  his 28 tenants one month free rent in celebration of the 50th Independence anniversary of  Nigeria.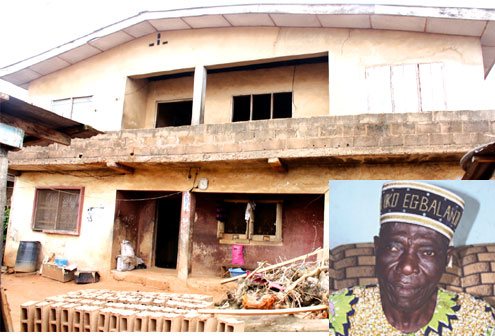 The landlord, Chief Sikiru Oladunjoye, told his tenants to not to pay the rent for  September, , saying that he had used it as gift for them to celebrate the golden jubilee  of Nigeria.
All the tenants sang praises of the landlord of the house situated on 5 Oladunjoye  Street, Toyin bus stop, Iju-Ishaga.
Oladunjoye is the Baale of Obada-oko in Ewekoro Local Government Area of Ogun State. He  came to Lagos State in search of greener pastures in 1957 as a mechanic.
There are lots of reasons to give thanks to God, especially as he weathered the storm to  actualise his mission in Lagos.
"The gesture is the least I could do to appreciate God and the country. The 50th  anniversary celebration is significant in my life because I married my senior wife on  September 30, 1960 and we celebrated the Independence Day together as couple. I remember  quite well that the celebration was our first social engagement as I recall taking her  round Lagos to behold fiery fireworks," he recollected.
However, Oladunjoye said he was also moved by the many achievements of Governor Babatunde  Fashola, saying that "honestly, I don't know where this kind of a man has been all the  while. We have suffered in Lagos as a commoner. Look at all the selfless services he and  his cabinet have been rendering. May God never cease His blessings on him."
He again prayed for President Goodluck Jonathan and his team for successful  administration and the 2011 election, saying, "as a Muslim, I am always philosophical and  cautious when I approach issues. Jonathan's emergence in the political scene of this  country is mysterious. The earlier we admit this, the better for us all.
"God may have brought him to come and wipe our tears away after all punishment meted out  to us by our past leaders. I want us all to rally round him, bless and support him. If  possible let us contribute our quota towards his success at the polls."
"One of the tenants, Augustin Edewor, a police sergeant said he was not surprised  "because Baba is known for good gestures" and prayed that God favours him and his family.
Another tenant, Najeemdeed Sobola, a welder, described the landlord's gesture as another  positive deed he is known for in the area.
When contacted, the landlord said some of the tenants still remained sceptical about his  decision to give them the bonus.
He said he had a lot of harrowing experience from landlords in the state, which made him  resolve to treat his own tenants well.
—Kazeem Ugbodaga
Load more