Nigeria has rehabilitated more than 5,000 former militants from the oil-rich Niger Delta  who embraced a government amnesty last year, an official said on Monday.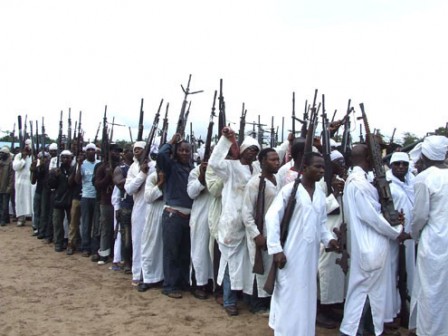 The presidential adviser on the restive region, Timi Alaibe, told reporters that 5,295  ex-oil "rebels" who were retrained at a camp set up for them in July are "certified as  having imbibed the principles of non-violence."
They are now being sent for vocational training in Nigeria and abroad, said Alaibe in a  speech marking the first anniversary of the amnesty offer.
Former president Umaru Yar'Adua granted unconditional amnesty to more than 20,000 former  militants from the Niger Delta.
Alaibe said that in "just one year after the proclamation of amnesty…the region has  become the safest zone in Nigeria."
"With peace restored in the Niger Delta, oil companies and associated companies reopened  shut-in wells. Nigeria's oil production increased," he said.
Militant activity in the region, which included kidnappings and attacks on oil  installations, lowered the country's oil production from 2.6 million barrels a day to  about one million at the peak of the unrest.
Nigeria currently produces around 2.1 million barrels daily.
Nigeria is among the world's largest oil producers, but its government has been unable to  provide basic services to millions living in dire poverty.
The amnesty deal has led to a sharp decline in attacks, but some observers fear a return  of unrest if the programme is not followed through.
Load more