In the wake of Nigeria's suspension from international football, Super Eagles' captain,  Joseph Yobo, has made a passionate plea to warring factions in the country's football to  sheathe their swords and embrace peace.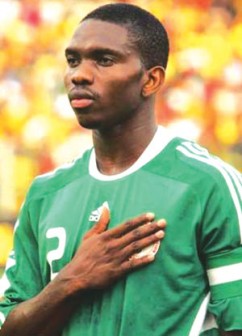 Yesterday, FIFA slammed an indefinite suspension on the Nigeria Football Federation (NFF)  due to government interference, after becoming frustrated with events in the West African  country.
Nigeria's ban from international football leaves their weekend's 2012 Africa Cup of  Nations qualifier against Guinea in Conakry in doubt.
And this latest setback has left the Nigerian captain seeking an everlasting resolution  to the crisis that has dogged the country since the team's elimination in the first round  of the World Cup in South Africa in June.
"The players are gradually coming to camp in preparation for the Guinea game when the  news broke; it's a sad one for the players." Yobo said.
"We just hope everyone can  come together and resolve this crisis once and for all for  the progress of the country.
"The players are relatively calm hoping things can quickly be resolved because a  suspension preventing the game on Sunday would have negative effect.
"Football brings us together as a country; we should not let it separate us as a strong  nation.
"After the World Cup disappointment, we are gradually making effort to usher in a new joy  and happiness and this FIFA suspension is the last thing we need."
The world governing body said the suspension follows a bid by Nigeria's sports minister,  Ibrahim Bio, to restart the league without relegation from the previous season.
The decision by the National Sports Commission (NSC) to force the NFF secretary-general,  Musa Amadu, to stand down from his position did not also go down well with FIFA.
A court action barring the newly-elected members of the NFF also drew the ire of the  world governing body. The NFF board led by Aminu Maigari has not been able to operate  because a Federal High Court sitting in Lagos ruled that the elections of 26 August that  brought him to power were null and void.
Load more