The General Overseer of the Mountain of Fire and Miracles Ministries, MFM, Dr. Daniel  Olukoya,  has presented a brand new Toyota Corolla car,  an undisclosed amount of money  and a certificate of honesty to the Polytechnic student, Durojaye Adeyemi Job, who  returned  N9.3 billion  wrongly credited to his First Bank Plc account.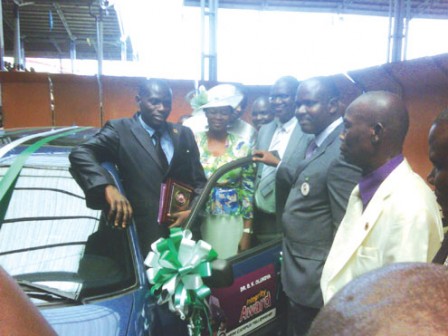 Adeyemi, a Higher National Diploma, HND, student of Civil Engineering, The Polytechnic,  Ibadan, displayed an exemplary feat of honesty two months ago in Ibadan, while using the  Automated Teller Machine(ATM) to withdraw N2000 from the N3000 in his  First Bank  account, he discovered a whopping N9.3billion balance in the account.
Unlike what most people will do especially in these hard times, Adeyemi, who is a youth  cordinator in MFM Ibadan, after confirming that the money was real, decided to return the  money to the bank.
The manager of the bank initially could not believe Adeyemi's claim until she checked and  discovered that the huge sum had been wrongly posted to his account from the bank's  headquarters in Lagos.
Announcing the car gift and other prizes to Adeyemi at the church's  monthly Power Must  Change Hands programme lastweekend, Dr. D.K. Olukoya said the church decided to reward  him to show people that intergrity and honest still pay.
He noted that Adeyemi's action has portrayed him as a good ambassador of the church's  emphasis on holiness.
Other items presented to him include an undisclosed  special package in a briefcase and a  plaque.
Following Adeyemi's exemplary action in August, the Oyo State Goverment and  his school  authorities have also given him special award and gifts.
The authorities of The Polytechnic, Ibadan gave him a scholarship covering his school  fees for the duration of his programme.
The school authorities also promised him a job on graduation. The institution's Public  Relations Officer, Alhaji Adewole Soladoye, said the institution would do everything  possible to encourage honesty.
The goverment of Oyo State honoured Adeyemi with the Exemplary Leadership Behaviour 2010Â  Award.
Ayo Makanjuola Josiah, Oyo State commissioner for Youth and Development, during the award  noted that no reward can be too much for honesty and integrity.
Job's honesty has also been lauded by his lecturers and some students who described him  as humble, brilliant and a disciplined person.
—Henry Ojelu
Load more